a
Naval Industry News - Indoensia, Philippines
PT PAL Indonesia Started Construction of the 1st SSV LPD for the Navy of Philippines
PT PAL Indonesia held a "First Steel Cutting Ceremony" of the Strategic Sealift Vessel-1 (SSV) Landing Platform Dock in presence of the Chief of Staff of the Philippine Navy and other authorities. The Philippines Ministry of Defence ordered two SSVs from the Indonesian shipyard. Delivery of this unit is expected on the second quarter of 2016. The second and final delivery is set on 2017.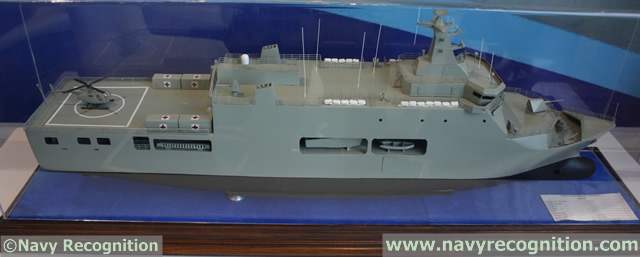 Strategic Sealift Vessel SSV scale model on display at the PT PAL stand during INDODEFENCE 2014
The SSV selected by the Philippines is based on the Makassar class LPD design. Four vessels of this class are already in service with the Indonesian Navy (TNI-AL) while the
Peruvian Navy
placed an order for two similar amphibious vessel in 2012 (to be built locally).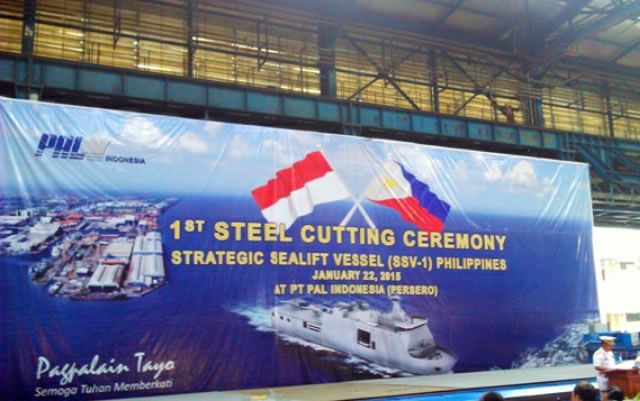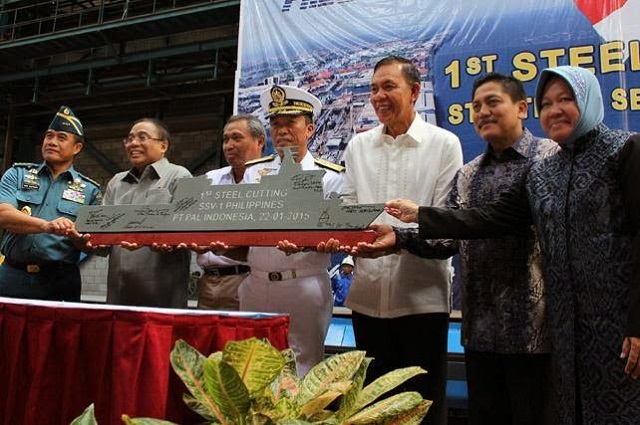 Steel cutting ceremony of the SSV-1 for Philippine Navy
Based on a DSME design, the Indonesian Navy Makassar class LPD have a length of 125m for a standard displacement of 7,300 tons. They can carry up to 35 vehicles, 5 helicopters (2 in hangar), 218 troops and 2 landing crafts in a well deck.

Basic specifications of Makassar class LPD:
• Length Over All = 125 M
• Length Between Perpendicular = 109,2 M
• Breath = 22.0 M
• Depth (Tank Deck)/Truck Deck = 6,7 M / 11,3 M
• Draft : Max = 4,9 M
• Displacement = 7.300 Ton
• Speed max. = 15 Knots
• Endurance in days = 30 days
• Cruising Range = 10.000 Miles
• Complement = 344 person (Crew 126; Troops 218)
• Helicopters = 5 units
• Landing craft = 2 units