a
Naval Forces News - Russia
Russian Navy Future Leader Class Destroyers Basic Design To Be Ready in 2016 According to OSK

According to ITAR-TASS citing an OSK (Russia's United Shipbuilding Corporation) source, the basic design of the future Leader class destroyer will be presented to the Russian Navy in two versions in the first quarter of 2016.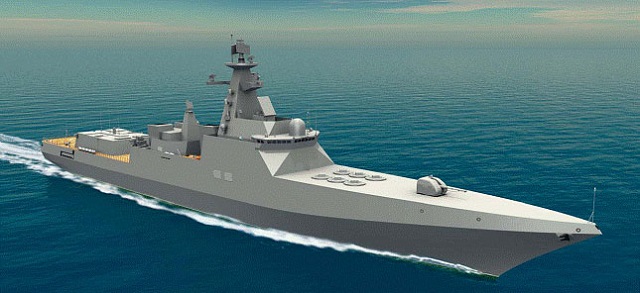 Twelve ships of the 10,000t "Leader class" are planned to enter service from 2023-25, split between the Northern and Pacific Fleets. They will all be nuclear powered. They will be fitted with the ABM-capable S-500 SAM and Kalibr (SS-N-27) cruise missile. Image for illustration purpose only:
Severnoye Design Bureau Project 21956 class destroyer.

"A contract on the Lider basic design development in two versions - nuclear and non-nuclear was concluded with the Severnoye (Northern) Design Bureau today. Under the contract the Bureau will complete the development of the multi-variant basic design and submit it to the Navy Chief Command in the first quarter of 2016. The Navy will make a decision and then the full-fledged development of the engineering design and work design documents will be started," he said.

Earlier reports indicated that the Leader class would be exclusively nuclear-powered.

Shlemov said that the final variant of the new-generation ship's propulsion equipment and its other characteristics have not been finally determined.

"The Defence Ministry's technical development plan specifies the development of two variants, and the Severnoye Design Bureau is working on both of them," he said.

The construction of the head Lider destroyer could begin in late 2018, and its creation will take 5 - 6 years, he added.

"We are completing the basic design, then we'll proceed to the engineering design development during a year, and then develop the design documentation. According to our estimates, on the condition of the project's promotion by the Russian Defence Ministry, it will be possible to start the ship's building in late 2018 - early 2019. It will be a very serious ship. I think that the ship's construction would take 5 - 6 years," Shlemov said.

According to Shlemov, the St. Petersburg-based Severnaya Verf (Northern Wharf) shipyard could take up the destroyer building. "The plant is being prepared, the funds invested in the development will make it possible to implement this complex project, making a ship in any configuration - both nuclear-powered and non-nuclear," the expert said. A military-industrial complex source said previously that a nuclear-powered version was selected for the Lider class destroyer.