a
Naval Forces News - Japan
Lockheed Martin Will Upgrade the AEGIS Combat System Onboard Japan's Atago Class Destroyers
Lockheed Martin Mission Systems and Training was awarded a $69,690,095 modification to previously awarded contract for development and test of the Japan Aegis Modernization baseline computer programs and equipment. This modification covers efforts to support the upgrade of Japanese Maritime Self-Defense Force Atago Class Ships (DDGs 177 and 178) from Baseline 7 Phase 1R to Advanced Capability Build 12 with Technology Insertion 12 technology and capability.
Back in
December 2012
, Japan made an official request to the US Defense Security Cooperation Agency for the upgrade of the AEGIS combat system onboard the two Atago Class Ships (DDG-177 ATAGO and DDG-178 ASHIGARA).
The Atago class of destroyer is an upgrade of the Kongo class. Both vessels are fitted with the AEGIS combat system and SPY-1D radar both produced by Lockheed Martin.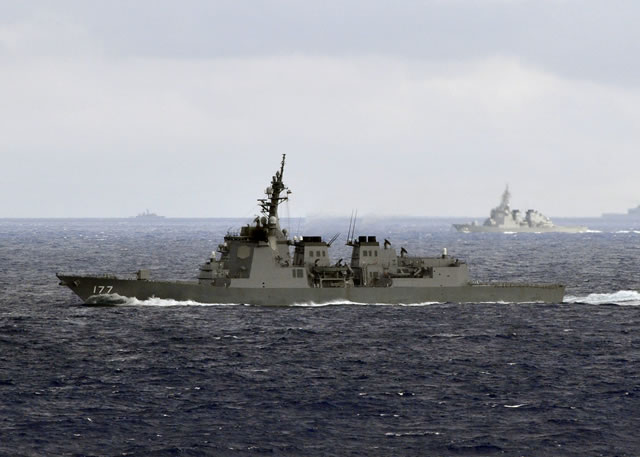 JMSDF guided-missile destroyer JDS Atago (DDG 177). Note the hangar at the stern.
Picture: US Navy
Atago class
In 2000, the Japan Defense Agency Maritime Staff Office included another two Aegis ships in its five-year budget on top of the four Kongo class destroyers originally ordered. The Atago class is fundamentally an improved and larger version of Kongo class destroyers.

The vessels have all of the armament of the Kongo class but received a hangar space for to accomodate two SH-60 helicopters. Atago class destroyers displace 10,000 tons full load. JDS Atego DD178, was commissioned in 2007 and JDS Ashigara DD-178 was commissioned in 2008.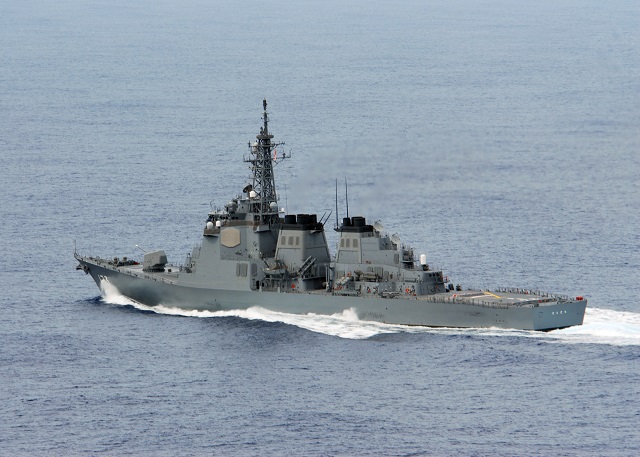 JMSDF guided-missile destroyer JDS Kongo (DDG 173). Note: No hangar at the stern.
Picture: US Navy
Kongo class
The Kongo class of guided missile destroyers serves as the core ship of the JMSDF's Escort Fleet. They are largely based on the United States Navy's Arleigh Burke class (Flight I).

4 Kongo class destroyers were commissioned between 1993 and 1998. They displace 9,500 tons full load.

Weapons:
• RGM-84 Harpoon SSM
• 61 VLS forward 29 VLS aft for: SM-2MR SAM, SM-3 Block IA ABM, RUM-139 Vertical Launch ASROC
• 1x 5 inch (127 mm) Oto-Melara main gun
• 2x 20 mm Phalanx CIWS
• 2x Type 68 triple torpedo tubes (6x Mk-46 or Type 73 torpedoes)