a
Naval Defense Industry News - USA
L-3 Receives Award for U.S. Navy Block 4 LPPM Photonics Mast Program
L-3 Communications announced today that its electro-optics business, L-3 KEO, was awarded a $48.7 million, competitively bid contract from the Naval Sea Systems Command (NAVSEA) to develop and build a new, slimmer version of its photonics mast for the Block 4 Low Profile Photonics Mast (LPPM) program for use on Virginia-class submarines. Under the terms of the contract, L-3 KEO will perform engineering and design work for the lower-profile mast during the first year, with options to produce up to 29 photonics masts over a subsequent four-year period, as well as engineering services and provisioning item orders with a contract maximum ceiling value of $157 million.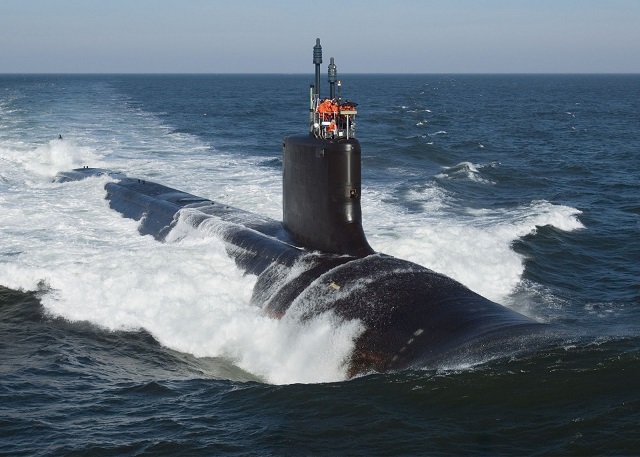 USS North Carolina (SSN-777), a Virginia-class attack submarine, with its periscopes out. The non hull-penetrating LPPM provides a sleek profile that significantly reduces the signature of the periscope, making it less identifiable as a U.S. Navy submarine because it appears similar to existing periscopes. ©2007 Northrop Grumman Newport News photo by John Whalen

"We are extremely pleased to collaborate with the U.S. Navy on the Block 4 LPPM program, which will significantly enhance Virginia-class submarines in deployments around the globe," said Steve Kantor, president of L-3 Electronic Systems. "This is a great opportunity to build on our long-standing partnership with the Navy by delivering sophisticated imaging technologies to a valued customer with well-defined, mission-critical requirements."

"We are very pleased to have been selected to provide the U.S. Navy with a photonics mast that combines the enhanced situational awareness capability it wants with the more stealthy footprint it needs to avoid detection in international waters," said Matthew Richi, president of L-3 KEO. "As the leading submarine imaging provider in the world, we look forward to focusing on the interoperability of our systems to explore export licensing opportunities with international navies."

Mr. Richi added that KEO plans to develop its LPPM so that NAVSEA can support new construction submarines, as well as retrofits to existing submarines, as part of a continuous modernization program that addresses reliability, performance and affordability.