a
Naval Industry News - South Korea
HHI Launched "Nampo" MLS-II Class New Generation ASW Minelayer for the ROK Navy
South Korean shipyard Hyundai Heavy Industries (HHI) launched the first MLS-II class anti-submarine warfare (ASW) minelayer for the Republic of Korea Navy (ROK Navy) on May 28th. MLS-II Nampo has a lenght of 114 meters, 17 meters in width and 28 meters in depth for a displacement of 3,000 tons. Its crew complement is 120. Nampo is expected to be delivered to the ROK Navy by October 2016 following final outfitting and sea trials.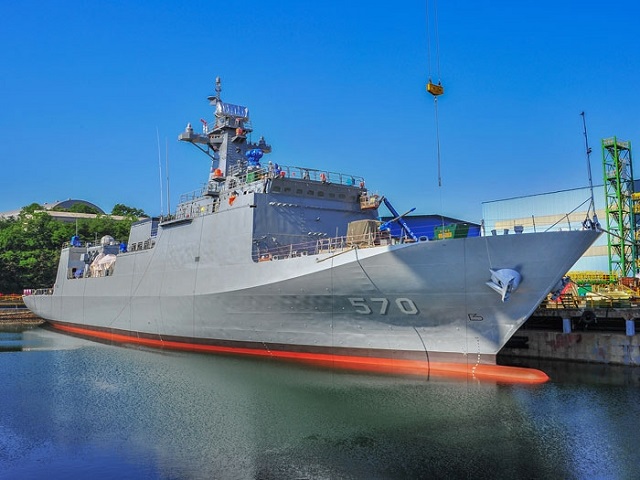 MLS-II class ASW Minelayers will receive some of the same sensors and weapons as the FFX class Frigates of the ROK Navy.
The future ROKS Nampo is the first in class of four to five ships of MLS-II class minelayers. Unlike most minelayers, MLS-II vessels will receive a potent set of weapons and sensors:
» The MLS-II are set to be outfitted with the full sensors array of the
FFX frigate
in addition to a more advanced submarine and mine-detecting equipment and countermeasure suite.
» Vessels of the MLS-II class will be fitted with a K-VLS package at the back of the helicopter hangar that can deploy 'Sea Bow' SAAM interceptors to provide anti-air warfare defense capability.
Video on MLS-II Nampo delivery