a
Naval Defense Industry News - USA, Canada
DRS Technologies to Provide Integrated Communication Systems for Royal Canadian Navy iAOR

DRS Technologies Inc., a Finmeccanica Company, announced today that its Canadian subsidiary, DRS Technologies Canada, Ltd., will be providing integrated communications systems to Chantier Davie Canada and Project Resolve Inc. for the Royal Canadian Navy's (RCN) interim Auxiliary Oiler Replenishment (iAOR) ship program.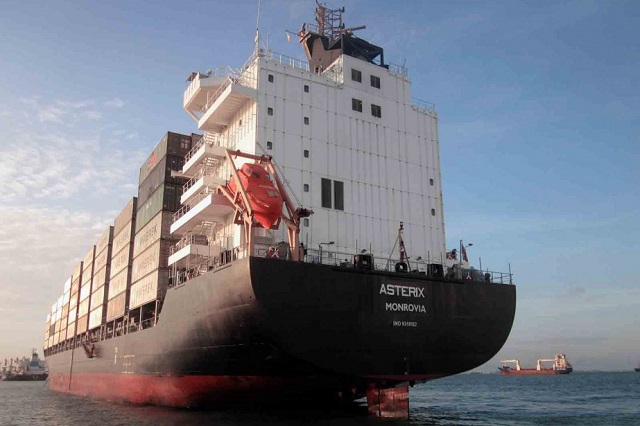 Civilian container vessel M.V. Asterix will be converted into an Auxiliary Oil Replenishment (AOR) ship for the Royal Canadian Navy's interim supply ship capability. Picture: Chantier Davie

The iAOR ship program is an important interim capability to supply at-sea Canadian naval forces with fuel, ammunition, water, spare parts and food. The DRS integrated communications system will include all internal tactical and secure voice switching systems and terminals; communication systems required under Safety of Life at Sea regulations; the entertainment, broadcast and alarms systems; and the networks system.

It leverages the DRS Shipboard Integrated Communications system, SHINCOM 3100, developed in Canada and currently operating on the RCN's Halifax-class Frigates and other multi-national naval ships.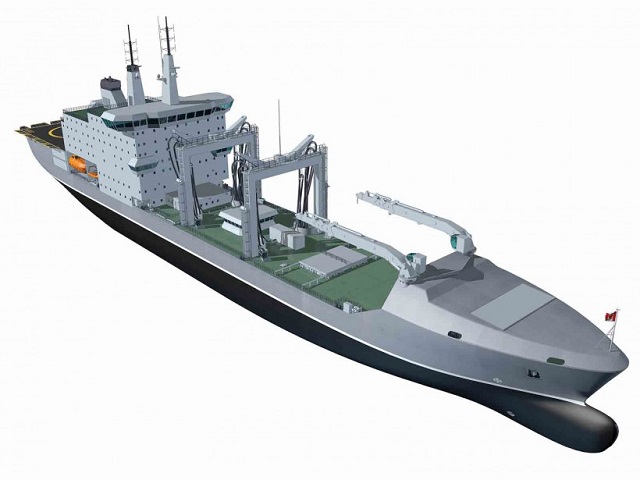 Computer rendering of the vessel after conversion. Picture: Chantier Davie

"This is a tremendous opportunity for DRS to deliver the SHINCOM 3100 system to the Royal Canadian Navy leveraging the existing installed base with the Canadian Halifax-class, Royal Australian Navy, Royal New Zealand Navy and United States Navy," said Steve Zuber, vice president and general manager of DRS Technologies Canada Ltd. "This program will facilitate interoperability and the ability to share technology and applications, ensuring that SHINCOM 3100 remains the premier internal communications system for years to come, and a fleet standard," Zuber said.

"Project Resolve will provide the RCN with an urgently needed and essential replenishment at-sea capability," said Spencer Fraser, chief executive officer of Project Resolve Inc. "We are extremely proud to have assembled an impressive pan-Canadian supply chain that will feature 'best-of-breed' naval technologies developed and produced here at home by Canadian personnel. DRS Technologies Canada Ltd. is a trusted partner with an outstanding pedigree of providing and supporting the RCN and exporting Canadian secure naval communications technology worldwide. The company will be bringing a very modern and proven capability to our iAOR solution."

Chantier Davie Canada Inc. is Canada's largest and highest-capacity shipbuilder and industrial fabricator. Davie provides a broad range of products and services to industries from offshore oil and gas to defense. Davie leverages its high-capacity fabrication facilities with its advanced project management and engineering capability to manage end-to-end construction projects and provide best-practice through-life solutions to its corporate and governmental clients. Davie was voted North American Shipyard of the Year (2015) by Lloyd's List.