a
Naval Forces News - Russia
MiG Corporation expecting new order for MiG-29K/KUB Naval Fighters from Russian Navy
Russian fighter aircraft manufacturer MiG (a subsidiary of the United Aircraft Corporation) is expecting a new order from the Russian Defense Ministry for more Mikoyan MiG-29K/KUB (NATO reporting name: Fulcrum-D) carrierborne multirole fighters, MiG Corp. Director General Sergei Korotkov told journalists on Friday.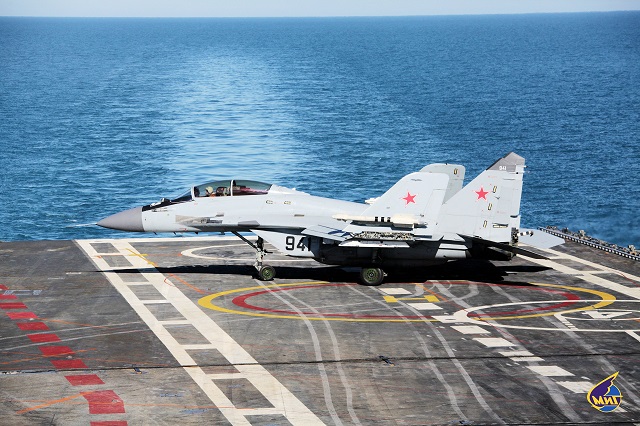 MiG-29KUB carrier-based multirole fighter aircraft. Picture: Russian Aircraft Corporation MiG
"The acceptance flights of the last carrierborne aircraft [in the batch] are being conducted before their delivery to the Russian Defense Ministry. Certainly, we will fulfil the MiG-29K/KUB fighter order under the governmental defense acquisition program, because there is enough time before year-end, and the customer is accepting the last of the aircraft ordered under the current contract. We hope, however, for the options promised to us to firm up," Korotkov said.

MiG Corp. and the Russian Defense Ministry made a deal for 20 MiG-29K single-seat and four MiG-29KUB two-seat fighters in February 2012.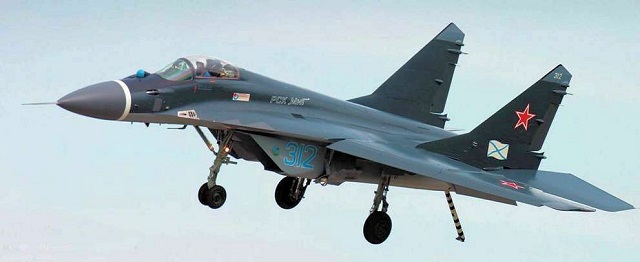 MiG-29K carrier-based multirole fighter aircraft
MiG Corp.'s order book is reported to be around $4 billion, with the manufacturer to deliver a total of 32 aircraft to Russian and foreign customers in 2015.

The MiG-29K and MiG-29KUB carrierborne multirole fighters are designed for ship formation air defense and surface target attack with the use of a wide range of air-launched weapons, including precision-guided munitions. The fighter and combat trainer have an increased fuel capacity and the mid-air refueling capability. They can act as airborne tankers for other aircraft, using their PAZ-1MK refueling equipment. The twin-engine planes are powered by RD-33MK engines, each producing a takeoff thrust of 9,000 kgf. The MiG-29K/KUB are equipped with the Zhuk-M slotted-array antenna radar. Their maximum speed is 2,200 km/h and their ferry range on internal fuel only stands at 2,000 km.

© Copyright 2015 TASS. All rights reserved. This material may not be published, broadcast, rewritten or redistributed.