a
Naval Defense Industry News - USA, Norway
Kongsberg's Joint Strike Missile (JSM) Successfully Completed Flight Test from F-16 Aircraft
The Joint Strike Missile (
JSM, the air launched variant of the NSM - Naval Strike Missile
) successfully completed a missile flight test in the United States last week. The missile was launched at 22,000 ft from an Edwards Air Force-based F-16 over the Utah Test and Training Range and performed a number of challenging flight maneuvers. The test proved the maturity of the missile, which is specifically designed to fit inside the F-35A weapons bay, and the missile flight control software.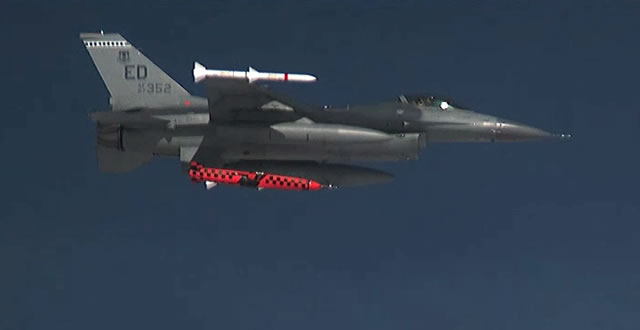 JSM Tested from an F-16 (Photo: Lockheed Martin)

"This is a major accomplishment for the JSM program, and in addition several critical capabilities beyond the scope of the test were verified. The test demonstrates that we are on track with the qualification of JSM, which brings critical capability to F-35 and the warfighter", says Harald Ånnestad, President Kongsberg Defence Systems.
The JSM is a new missile being developed in partnership with Raytheon for the Norwegian Armed Forces. The missile will complete the qualification program in 2017 and will have unmatched operational capabilities enabling the F-35 to fight well-defended targets across long distances. The missile will be integrated on the F-35A but can also be integrated on other types of aircrafts, meaning its market potential extends beyond the future users of the F-35.
"This successful flight test further validates that JSM will be an ideal solution for the medium-range anti-ship and land attack mission," said Mike Jarrett, Raytheon Missile Systems vice president of Air Warfare Systems. "Raytheon and Kongsberg are working together to deliver this important, new capability to customers around the globe."
The missile flight test program started early 2015 with numerous captive carry tests on an F-16 and will continue with flight tests of increasing complexity through 2016 and 2017. The flight test program is scheduled to complete in accordance with plan in 2017.
Link to NSM/JSM technical datasheet