a
Naval Forces News - Russia
Secret Russian Navy Nuclear Torpedo System Status-6 Leaked in Television Report
At least two Russian television channels, NTV and Channel One, have aired footage on Tuesday showing plans of a never disclosed before nuclear torpedo. Footage shows a Russian military official holding a document containing technical drawings and information about a new "Status-6" torpedo designed by Central Design Bureau for Marine Engineering "Rubin". This was filmed during a meeting of Russian President Vladimir Putin with military officials in the Black Sea resort city of Sochi.

The Status-6 torpedoes would target "economically important enemy facilities in coastal regions" by creating "zones of extensive radioactive contamination making them unsuitable for military or economic activity for a long period," the document says.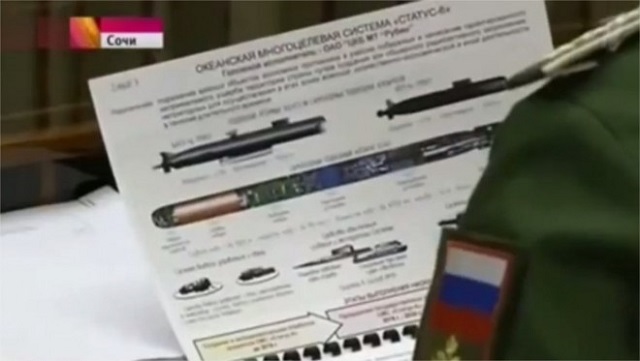 Screen capture from the TV report showing the document about the new Status-6 torpedo
"The Kremlin admitd that television channels have shown secret data and hopes this situation will not happen in future again" presidential spokesman Dmitry Peskov said on Thursday.

"It is true that some secret data was captured by TV cameras. Therefore, it was subsequently deleted," Peskov said. "We hope this will never happen again," he added. The Kremlin spokesman said he "does not know about any measures so far [to punish the guilty persons]." "We will undoubtedly take preventive measures in future so that a similar situation does not happen again," the spokesman said.

Some experts in the west raised a question however: Was this a genuine unintentional mistake or rather a controlled "leak" ?