a
Naval Forces News - USA
US Government Approves Sales of E-2D AWACS Aircraft to Japan and P-8A MPA to Australia
The US government has approved the sale of advanced electronic surveillance aircraft to Japan and Australia, the Department of Defense said in two contract notifications.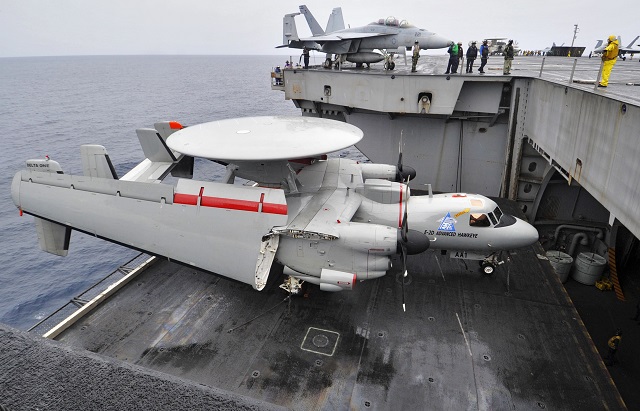 An E-2D Hawkeye assigned to Test and Evaluation Squadron is moved from the flight deck to the hangar bay aboard the aircraft carrier USS Harry S. Truman. The "D" model is aboard Harry S. Truman for operational testing and evaluation before delivery to the fleet. Picture: U.S. Navy

Northrop Grumman Systems Corp. is being awarded a $151,309,421 contract for the procurement of one E-2D Advanced Hawkeye aircraft for the government of Japan under the Foreign Military Sales program, the Defense Department stated on Thursday.
In U.S. Navy service, the E-2D Advanced Hawkeye is set to replace the E-2C Hawkeye in its primary mission to provide airborne early warning and command and control capabilities for all aircraft-carrier battle groups. While the primary mission for the E-2 has not changed, the Advanced Hawkeye is able to gather and process data more precisely and efficiently thanks to state-of-the-art radar and communication equipment.
To learn more: Read our E-2D Advanced Hawkeye focus story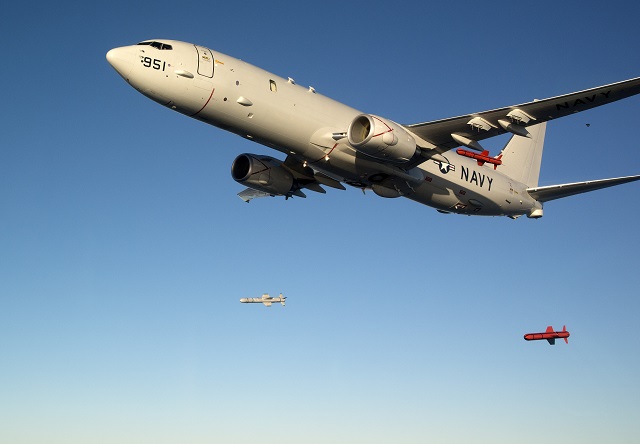 P-8A Poseidon during Harpoon release testing. Picture: US Navy

The Boeing Co., Seattle, Washington, is being awarded a $101,585,021 contract for the integrated logistics support and site activation for full-rate production II and III (Lots 6 and 7) of the P-8A aircraft for the Navy and the government of Australia.
Based on Boeing's Next-Generation 737-800 commercial airplane, the P-8A offers one of the worlds' most advanced anti-submarine, anti-surface warfare and intelligence, surveillance and reconnaissance capabilities. The U.S. Navy has deployed the first two P-8A patrol squadrons since operations started in 2013.
Link to P-8A Poseidon maritime patrol aircraft technical datasheet