a
Naval Defense Industry News - France
Aero Surveillance & Lacroix Working on a VTOL UAV-Based Decoy System for Surface Vessels
Aero Surveillance unveiled at MILIPOL 2015 a new Multi purpose Payload Launcher (MPL 30) on its line of VTOL Unmanned Aircraft Vehicles. The MPL 30 system can be adapted on ASV 100 or ASV 150 to fire several types of payloads in collaboration with Etienne Lacroix Group. Navy Recognition learned during the event that the two French companies are working on a variant to protect surface vessels.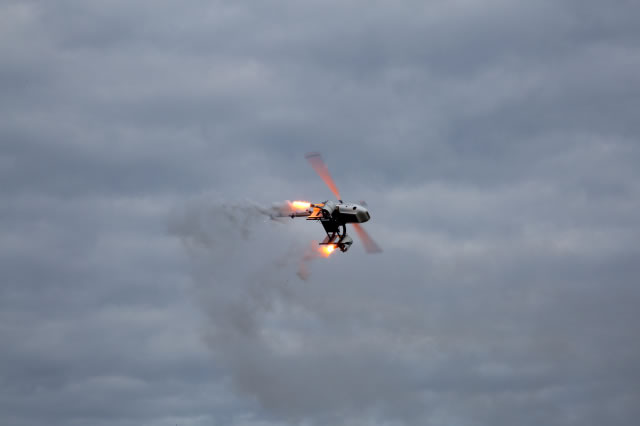 Multi purpose Payload Launcher (MPL 30) in flight tests. Picture: Aero Surveillance
The MPL 30 system was developped with four main applications in mind:
- Weather control with hygroscopic torches
- Law enforcement with tear gas grenades
- Triggering avalanches with explosives

The last application is a decoy system for surface vessels. According to Aero Surveillance CEO, the two year program is currently ongoing and 90% complete. This variant of the MPL 30 still needs to be flight tested.

The system is being developped to protect surface vessels up to 1,500 tons from missile attacks and will be able to deploy RF and IR decoys.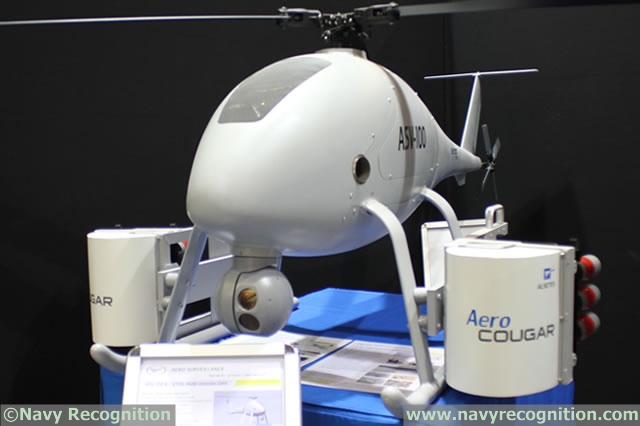 ASV 100 Rotary UAV fitted with Payload Launchers on display at Milipol 2015
The MPL 30 sub-system includes the following components:
· Two mechanical structures capable of carrying different types of plates such as Tear Gas grenades. The MPL 30 TG can carry up to 9 Tear Gas grenades on each side of the aircraft skid for a total of 18 tear gas grenades. Aero Cougar is a registered trademark from the Lacroix Group
· One Secure Airborne Fire Control System that translates ground commands from an independent secure transmission channel into firing command sequences
· A gyro-stabilized gimbal that provides high definition video during the day and night real-time imagery and can be remotely controlled from the Ground Control Station
· The ASG T150 dual display Ground Control Station equipped with a short or medium range communication system and a special software module dedicated to the control-command of the MPL sub-system