a
Naval Forces News - South Korea
U.S. Clears Possible FMS of UGM-84L Harpoon Block II Anti-Ship Missiles for ROK Navy
The State Department has made a determination approving a possible Foreign Military Sale to the Republic of Korea for UGM-84L Harpoon Block II missiles and associated equipment, parts and logistical support for an estimated cost of $110 million. The Defense Security Cooperation Agency delivered the required certification notifying Congress of this possible sale on November 17, 2015.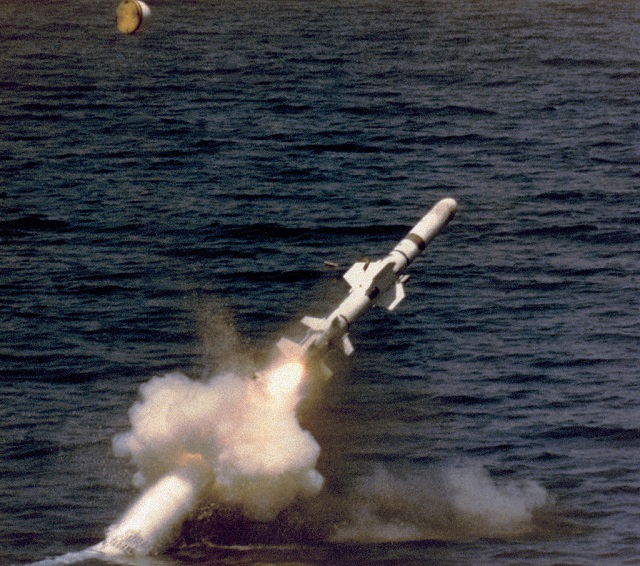 UGM-84L Harpoon. Picture: US Navy

The Republic of Korea (ROK) has requested a possible sale of Nineteen (19) UGM-84L Harpoon Block II All-Up-Round Missiles and Thirteen (13) Block II upgrade kits.
The ROK intends to use the Harpoon Block II missiles to supplement its existing Harpoon missile capability. The acquisition of the Harpoon Block II missiles and support will supplement current weapon inventories and bring the ROK Navy's Anti-Surface Warfare performance up to existing regional baselines. The proposed sale will provide a defensive capability while enhancing interoperability with the United States and other allied forces. Sub-launched Harpoon missiles have been used by the ROK since the 1990s. The ROK will have no difficulty absorbing these additional missiles into its armed forces.
The UGM-84L dubbed "sub Harpoon" is the submarine launched variant of Boeing's anti-ship missile. It is fitted with a solid-fuel rocket booster and encapsulated in a container to enable submerged launch through a torpedo tube. When the container breaches the sea surface, the Harpoon missile flies out thanks to its booster. The UGM-84L are likely ordered for the
KSS-III SSK
, ROK Navy's latest class of submarine.