a
Naval Defense Industry News - UK
QinetiQ Awarded Dstl Contract for C2 system Able to Control Multiple Unmanned Platforms
QinetiQ has been awarded a contract of GBP4.2 billion from the Defence Science and Technology Laboratory (Dstl) to deliver a C2 system that would control multiple unmanned systems. The transportable solution will be used to integrate unmanned platforms from different manufacturers and reduce the burden of the operators.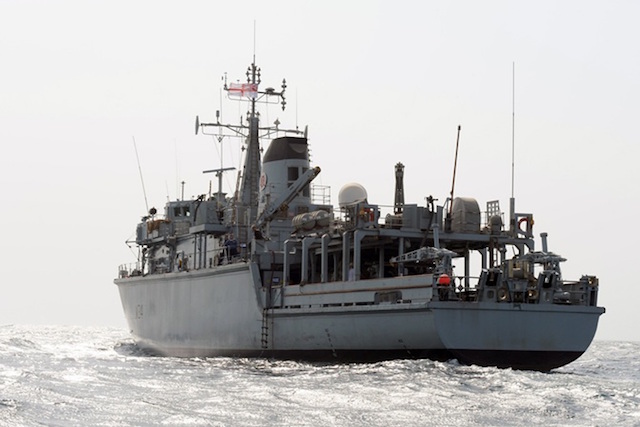 Royal Navy's HMS Middleton, a Hunt-class mine-hunting ship during an exercise. Photo: Royal Navy

The programme's aim is to reduce the number of screens and subsystems required to control a significant number of unmanned vehicle, thus reducing the burden of the operators and minimizing the room for error. Meanwhile, it would improve efficiency, taking advantage of the full range of the vehicles' capabilities.

The new system would be used at sea and will showcase its capacity during the Royal Navy's Unmanned Warrior, which will take place alongside Joint Warrior exercise in October 2016. During its upcoming operation, the system will be used to support a series of demonstrations, with one of them being mine countermeasures missions involving manned and unmanned platforms.

QinetiQ's Maritime Systems team, which is part of the company's Maritime Autonomy Centre, will be working with BAE Systems, Thales and Seebyte in the development of the programme.

Dstl's Ship Systems & Integrated Survivability Programme Manager, Dr. Philip Smith said that controlling multiple systems from different manufacturers is a major achievement and the programme will shape Royal Navy's future in the integrating and exploiting unmanned systems with the force.

On behalf of Royal Navy, Commander Peter Pipkin said: "This is an important part of showing the true potential of unmanned systems. Being able to demonstrate the end-to-end flow of information to enable better decision making is key and an important enabler for our demonstrations next year."