a
Naval Industry News - Germany, France
Raytheon Anschütz Reports Successful SYNTACS SAT Aboard CMN's Ocean Eagle 43 and HSI 32

Raytheon Anschütz, a leading integrator of naval integrated bridge systems, has successfully completed the Sea Acceptance Test (SAT) for the Synapsis Tactical Command System (SYNTACS) 32 built at
CMN's Cherbourg shipyard
in France.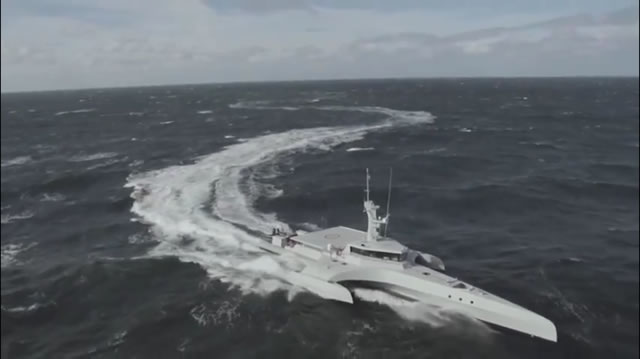 CMN built Ocean Eagle 43 Trimaran Patrol Vessel for Mozambique during trials off the coast of Cherbourg in sea state 5. Picture: CMN
CMN is building a series of new
HSI32 Interceptor
vessels and
Ocean Eagle 43 Patrol Boats
. Raytheon Anschütz was selected as system integrator and supplier of their SYNTACS solution for the new vessels.
SYNTACS is a scalable, efficient integrated mission management system solution, which has been developed to meet the specific tactical and command and control requirements of small and medium boats with a particular focus on the typical budget restrictions. SYNTACS combines integrated navigation capabilities, command and control, and advanced situational awareness to offer full control of the mission, sensors and effectors.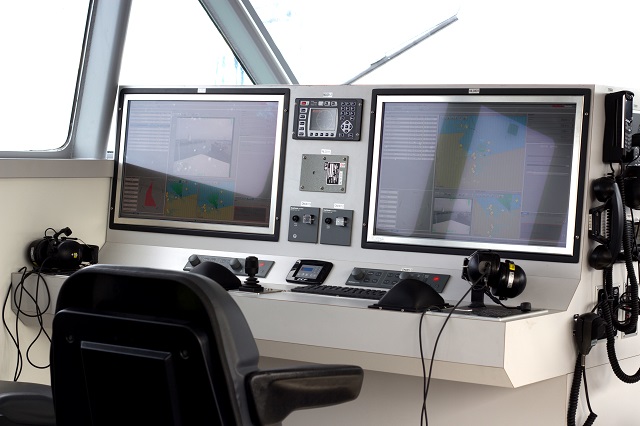 SYNTACS installation aboard CMN's new patrol boats.
The SYNTACS configuration delivered to the Interceptors and Patrol Boats consists of four multifunctional workstations – two for navigation and two for command and control. SYNTACS uses redundant networks and systems for both, navigation and C2 data, to ensure high system and data integrity, availability and reliability. SYNTACS features a fully functional integrated electro optical system and provides users with a situational awareness picture with tactical overlays for mission planning, target behavior analysis with automated alarms, as well as mission data recording and replay. DataLink modules are integrated to share the operational picture.

SYNTACS is Raytheon Anschütz' answer to a market trend toward employing Corvettes, OPV's (Offshore Patrol Vessels) and smaller vessels to detect and combat asymmetric threats and common relevant symmetric threats. The system is designed to allow these vessels to scale up from a policing or coastguard role to a more traditional military task when required. The standardization with off-the-shelf multifunctional workstations, common operating philosophy and modular system architecture, based on Raytheon Anschütz' Open Architecture Software for Integrated Systems (OASIS) framework, helps to minimize non-recurring engineering, training and logistics costs while remaining flexible enough to adapt to customer needs and mission requirements.