a
Naval Industry News - UK
UK MoD awarded contract for the fifth Astute-class nuclear-powered submarine
The UK Ministry of Defence has awarded BAE Systems a contract for the delivery of the fifth Astute-class submarine. With the construction having started in 2010, this contract covers the design and remaining build, test and commissioning activities of the HMS Anson. The submarine construction is on schedule for sea trials in 2020.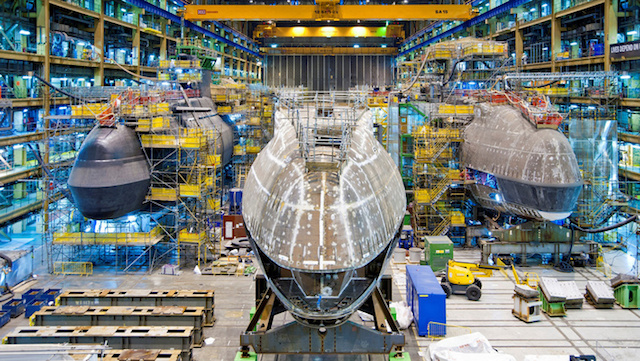 BAE Systems' Astute-class production line. (Photo: BAE Systems)
The GBP1.3 billion contract is part of the new procurement programme announced, as a result of the terrorist attacks in Paris and the instability in many areas around the world. The Royal Navy's submarine force structure will constitute of four SSBN's, that will be the nuclear, continuous deterrence at sea, and seven SSN Astute-class submarines.

Vanguard-class, nuclear-armed submarines are scheduled to be replaced at the beginning of 2030. The new class is known at this stage as "Successor". Its cost is estimated to be, during the complete lifetime of the programme, GBP31 billion.

Astute-class attack submarines are capable of engaging sea and land targets with their weapons arsenal, which includes BAE Systems Spearfish heavy torpedoes and Raytheon Tomahawk cruise missiles.