a
Naval Industry News - Australia, France
DCNS Delivers its Final Proposal for Australia' SEA1000 Future Submarine Program
DCNS today lodged its final deliverables to the Australian Government's Competitive Evaluation Process to select an International Program partner for the SEA1000 Future Submarine Program.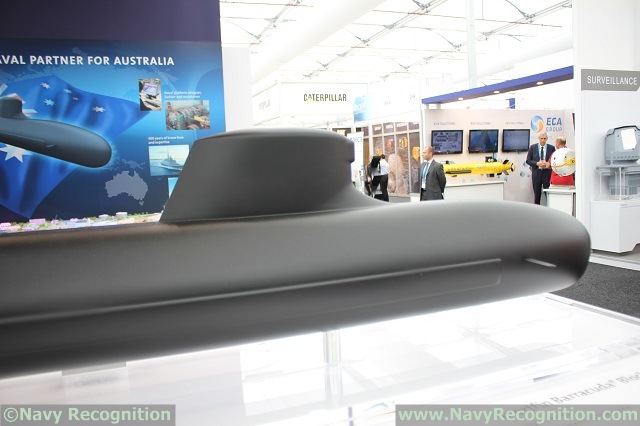 Shortfin Barracuda Block 1A scale model on display at PACIFIC 2015
The proposal includes a Government to Government Agreement from The French Ministère of Defence's Direction Générale de l'Armement (DGA) to the Commonwealth of Australia's Department of Defence and a binding written commitment on key aspects of the deliverables.

This milestone has been achieved on schedule and marks the beginning of the Commonwealth of Australia's evaluation phase.

Mr Sean Costello, CEO DCNS Australia, said "DCNS acknowledges the dedication from hundreds of people in France and Australia to the development of the Shortfin Barracuda Block 1A and a sovereign industry in Australia."

"We have worked as a team to create the best possible solution for Australia's future."
Video: Shortfin Barracuda Block 1A at PACIFIC 2015
Based on the
French Navy Barracuda SSN
currently in final stage of construction, the Shorfin Barracuda is 3 meters shorter (94 meters) and 200 tons lighter (4,500 tons).
Earlier this year
, the French Navy Barracuda Program Manager told
Navy Recognition: "The Barracuda is a major capability investment for the Defense reflecting France's will to maintain its naval power status for the next fifty years. This new submarine will contribute to the deterrence strategy and to the use of conventional means in power projection or intelligence-gathering contexts. Therefore, it will act both as a power projection tool and as a warship". "The Barracuda received many technology transfers from the SSBN and some further developments that should give it a very high discretion, no comparison to the Rubis class. The stealth objectives of the new SSN are very close to those of the current SSBNs [ed. note: Le Triomphant class]."

Some of the key requirement for the Barracuda SSN were long endurance and high transit speed. The conventional Shortfin Barracuda will retain these intrinsic qualities: According to Xavier Mesnet, Marketing Director for Surface Ships and Submarine
"It will be able to deploy far away, quickly and for a significant on-station period"
.
Finally, should Australia select the DCNS proposal, the Shortfin Barracuda will benefit from 2 or 3 years of operational deployement of the French Navy Barracuda.