a
Naval Forces News - China
Chinese Army PLA Commissioned a Logistics Support Ship for South China Sea Islands Support
The Chinese Ministry of Nationa Defense announced that a new logistics support ship of the Chinese People's Liberation Army (PLA) began its service in Sansha City, south China's Hainan Province, on the morning of November 23, 2015. The supply ship (hull number GY820) is the largest of its kind in the PLA Army with a maximum displacement of 2,700 tons. The 90 meters long and 14.6 meters wide vessel will be based in the South China Sea region to support replenishment operations.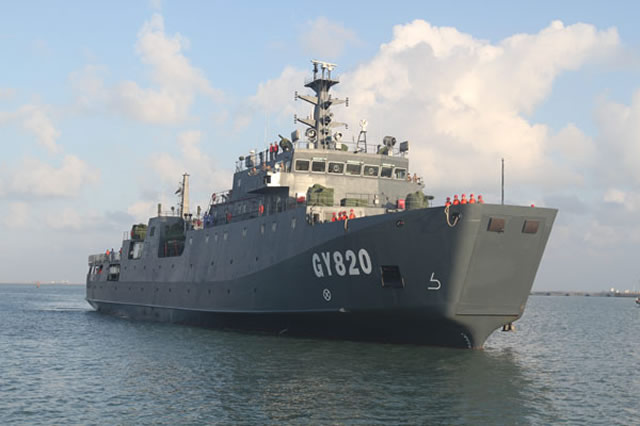 PLA new GY820 Logistics Support Ship
According to a Chinese MoD statement:
Helicopters can take off and land on the ship. Besides, the ship is able to transport large equipment and will be mainly used for materials supply, equipment transportation and maritime rescue mission in Sansha area after entering service. It is learnt that it is the first time that the PLA Army has such a large-scale comprehensive supply ship in the South China Sea region.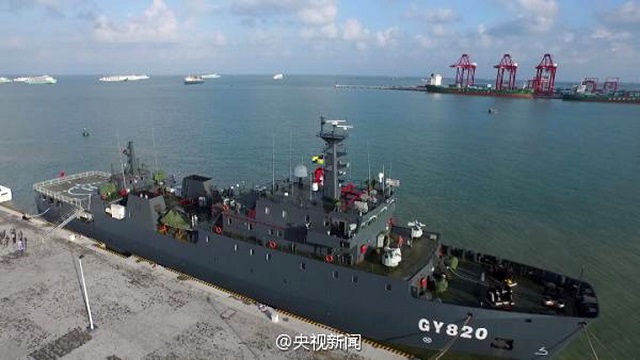 PLA new GY820 Logistics Support Ship
As its name suggests, the GY820 is categorised as a transport ("Yunshu") vessel under Guangzhou Military Command. Its primary function will be to resupply its homeport at Sansha, a prefecture-level city on Woody (Yongxing) Island, the largest in the Paracel group seized by China following a brief war with South Vietnam in 1974.

Sansha now administers three disputed archipelagos: the Paracel Islands, Macclesfield Bank and Spratly Islands.