a
Naval Industry News - France
French Shipyard CMN to Build a Brand New Shipyard Facility in Cherbourg Normandy
French shipyard
CMN
unveiled its plans to build a brand new shipyard in Cherbourg, Normandy (Western France). CMN has been working on the project for almost a year with the objective to develop a modern facility right on the quayside. The new project focuses on four key points: Human factors, Environmental excellence, Improved industrial organization and Modernization of the production tools.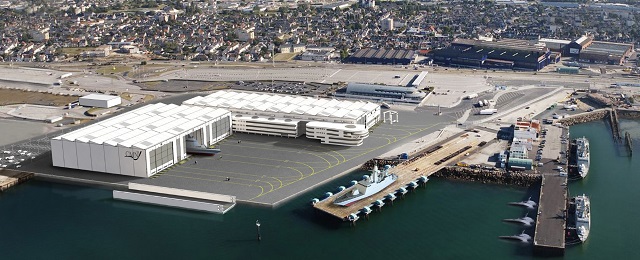 Artist impression of the future CMN shipyard facility in Cherbourg (Normandy). Picture: CMN
On 15th of July 2015 CMN received a favorable response to the call for manifestation of interest "Factory of the Future in Normandy".
According to a CMN statement
"The first ship launch at CMN took place back in 1948, our buildings are old and we are limited in our production capabilities. The current layout no longer corresponds to today's industrial logic; we need to improve the optimization of our material flows and on our productivity".
CMN new shipyard facility would be spread over 80,000 square meters, half of them to be reclaimed from the sea, with 32,500 square meters of covered surfaces.
CMN, CONSTRUCTIONS MECANIQUES DE NORMANDIE is a privately owned shipyard located in Cherbourg, France. Since 1946 CMN already delivered around 700 units (military and civilian ships) to 37 navies all over the world.

To learn more about CMN click here