a
Naval Forces News - USA
USS Ross Successfully Intercepts Ballistic Missile Target in European Waters with SM-3 Missile
USS Ross (DDG 71), an
Arleigh Burke Flight I class destroyer
, successfully intercepted a ballistic missile with a Raytheon-made Standard Missile-3 (SM-3) in the North Atlantic Ocean during the Maritime Theater Missile Defense (MTMD) Forum's At Sea Demonstration (ASD) Oct. 20, 2015. This is first time a SM-3 Block IA guided interceptor was fired on a non-U.S. range and the first intercept of a ballistic missile threat in the European theater.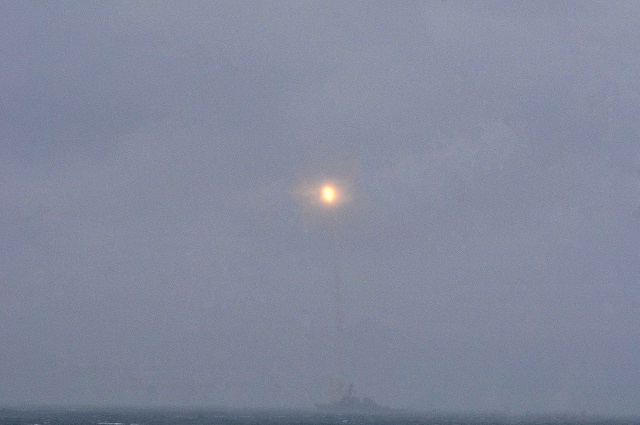 NORTH ATLANTIC OCEAN (Oct. 20, 2015) The Arleigh Burke-class guided-missile destroyer USS Ross (DDG 71) fires a Standard Missile 3 (SM-3) as part of an at-sea demonstration showcasing its ability to intercept a short-range ballistic missile target, Oct. 20, 2015. (U.S. Navy photo by Mass Communication Specialist 1st Class Mike Wright/ Released)

The Hellenic Navy has a fleet of four Super Vita-class vessels and "HS Ritsos" is the fifth. Two more are currently built at the Elefsis Shipyards SA. The contract for the procurement of the Fast Attack Crafts was signed in 2000 and has gone through "rough seas" between the company, the Greek Shipyards and the Hellenic MoD, regarding the terms of the contracts, the offsets and the payments
Video released by the US Navy
For the scenario, a short-range Terrier Orion ballistic missile target was launched from Hebrides Range and was inflight simultaneously with two anti-ship cruise missiles fired at the coalition task group. Ross fired a SM-3 and successfully engaged the ballistic missile target in space. In its air defense role, USS The Sullivans (DDG 68) fired a SM-2, which is the first time a SM-2 was fired on the Hebrides Range.