a
Naval Industry News - USA, KSA
Kingdom of Saudi Arabia May Order Four Multi-Mission Surface Combatant MMSC Ships

The Defense Security Cooperation Agency (DSCA) announced via press release yesterday that the U.S. State Department gave its green light for a proposed sale to Saudi Arabia of four Multi-Mission Surface Combatant (MMSC) Ships, an export variant of
Lockheed Martin's Freedom class LCS
currently in use with the U.S. Navy.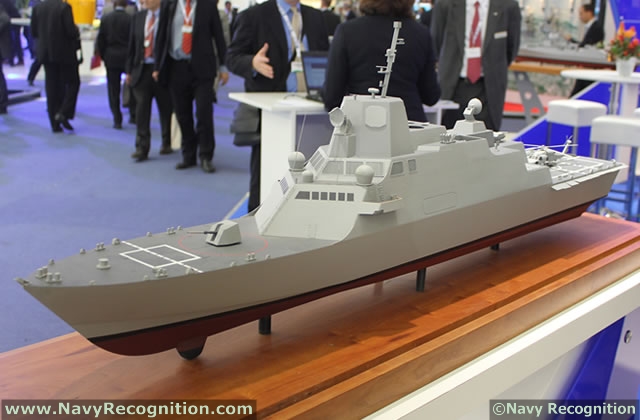 Lockheed Martin's Multi-Mission Surface Combatant model at Euronaval 2012
The four MMSC, if the order is confirmed, would be joining the Royal Saudi Navy "Eastern Fleet" based in the Persian Gulf. According to the DSCA release, the MMSC would be fitted with a 76mm main gun by Oto Melara, 10x 12.7mm machine guns, 16x Mk41 VLS cells for Raytheon's ESSM surface to air missiles, 1x SeaRAM CIWS, 2x4 Harpoon anti-ship missile launchers.
Such a weapon fit will make the MMSC quite more potent compared to the Freedom class LCS currently deployed by the U.S. Navy. Quite interestingly, the release mentions the contract also includes
Nexter's Narwhal 20mm Remote Weapon Station
. The configuration is likely similar to the French Navy's FREMM with two RWS fitted at the back (likely on top of the helicopter hangar) one port and one starboard.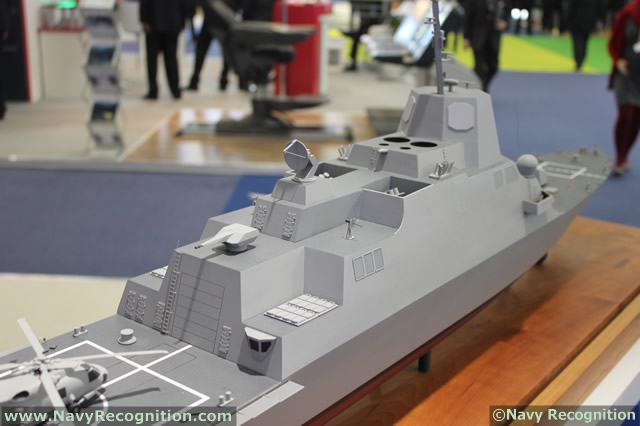 The Royal Saudi Navy future MMSC may look similar to this model: export variant of the Freedom class LCS, equipped on this scale model with Harpoon launchers, Thales Sonar, MK41 VLS, Oto Melara 76mm and Millenium 35mm guns
.
In terms of sensors, the Saudi Navy MMSC would be fitted with an Airbus D&S TRS-4D AESA Radar, a Variable Depth Sonar (likely Thales CAPTAS type), Saab Ceros 200 radar and optronic tracking fire control director, Argon ST WBR-2000 Electronic Support Measure and Threat Warning System. The combat management system is set to be similar to the one fitted onboard the Freedom class LCS: The COMBATSS-21 by Lockheed Martin.
According to the DSCA release, the proposed sale will provide Saudi Arabia with an increased ability to meet current and future maritime threats from enemy weapon systems. The Multi-Mission Surface Combatant ships will provide protection-in-depth for critical industrial infrastructure and for the sea lines of communication. Saudi Arabia will use the enhanced capability to keep pace with the rapid advances in technology and to remain a viable U.S. coalition partner in the region.
You may download the full DSCA release at this link.
According to several media reports, France is also negotiating (for the past couple years) a large naval deal with Saudi Arabia. The so-called Sawari III contract is rumored to include several
FREMM frigates
and
Gowind corvettes
for the Royal Saudi Navy "Western Fleet" based in the Red Sea.