a
Naval Forces News - Vietnam
Two Final Project 12418 Tarantul-class Corvettes to Enter Service in Vietnam in June 2016 - TASS
The Vietnamese Navy will receive two final Project 12418 Molniya-class (NATO reporting name: Tarantul V) missile-carrying boats in June 2016, a spokesman for Russia's Vympel Shipyard told TASS at the international exhibition Interpolitex-2015 on Thursday. The boats are being built in Vietnam under the Russian license, the spokesman added.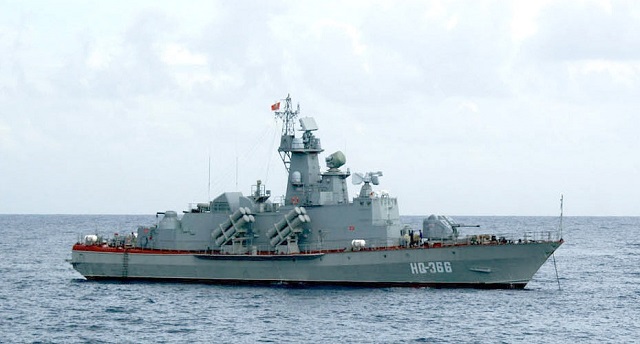 Vietnames People's Navy Project 1241.8 Tarantul V missile corvette
The Vympel Shipyard is manufacturing components and supplying them to Vietnam for missile boat assembly, as well as conducting technical supervision in cooperation with the boat's developer, Almaz Central Marine Design Bureau, which is part of the United Ship-Building Corporation. "The Vietnamese Navy will receive two final boats in June. After that, the contract will be completed," the spokesman said.

The issue of turning an option into a firm contract for assembling another four boats under the license is being discussed now, he said. "The Vietnamese customer is ready to place an order for these four boats, if their onboard equipment undergoes certain upgrade," the shipyard's spokesman said.

According to the contract signed in 2003, Vietnam received two Vympel-made boats and is to manufacture another ten under the license. Six of the boats are to be built under the contract and four as part of the option. The Russian-made boats were delivered to the customer in 2007 and 2008. The first licensed Project 12418 boat was laid down at the Ba Son Shipyard in Vietnam in 2010.

The Vietnamese Navy received the first two Vietnamese-made HQ-377 and HQ-378 corvettes with the Uran-E (SS-N-25 Switchbalde) missile system on July 20, 2014. Another two HQ-379 and HQ-380 corvettes entered service on September 25, 2015. Almaz CEO Alexander Shlyakhtenko told TASS earlier that Russia could equip the Vietnamese Navy's Project 12418 boats with advanced cruise missiles.

"Vietnam is building Project 12418 boats under the license and has asked Russia to upgrade them. They have asked to equip the boats with a new weapons suite, either the BrahMos or Yakhont missile," Shlyakhtenko said. It may be the Klub missile system, which is the export version of the Kalibr missile system, he said. "We can introduce changes into the project quickly without suspending production," the Almaz CEO said at the time.

The Project 12418 missile boat is designed to fight the enemy's surface ships, boats and transport craft both independently and within a formation. The boat has a displacement of 510 tons, a length of 56.9 meters, a maximum speed of 40 knots and sea endurance of 2,300 miles. The Project 12418 missile boat is armed with the AK-176M 76mm artillery gun, the Uran missile system comprising 16 missiles in four launch tubes, the AK-630M 30mm antiaircraft artillery system and 12 missiles for the Igla portable antiaircraft missile system.

© Copyright 2015 TASS. All rights reserved. This material may not be published, broadcast, rewritten or redistributed.