a
Naval Industry News - South Korea
Hanwha Thales Unveiled the Integrated Mast System for the Future ROK Navy FFX Batch III Frigate
During the Marine Week 2015 exhibition which was held October 20 - 23 in Busan, South Korea, Hanwha Thales unveiled for the first time the Integrated Mast (I-MAST) system currently in development for the future third batch FFX frigate of the Republic of Korea Navy (ROK Navy).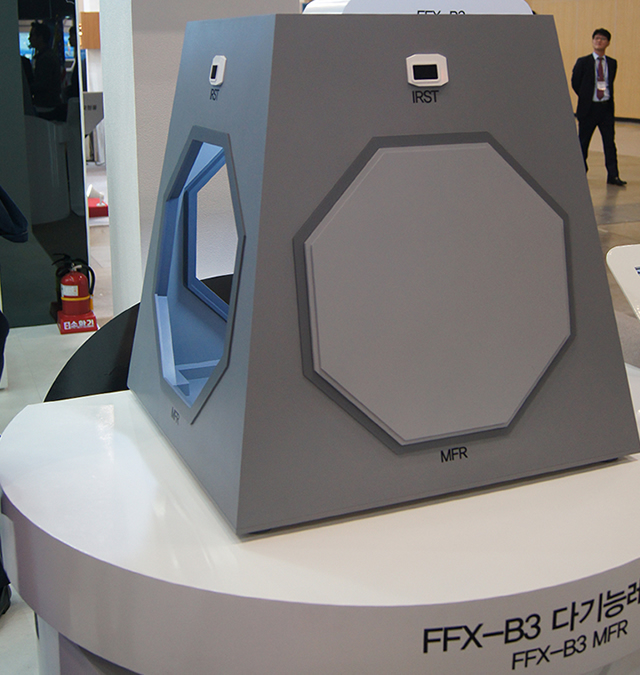 New Integrated Mast System for a potentional FFX Batch III Frigate unveiled by Hanwha Thales
According to Hanwha Thales, the system in development is a multi-function digital multi-beam radar. It combines four planar active phased array multifunction radar antennas as well as four Infra-red search and track (IRST) sensors
Based on the FFX Batch III ship model, the design differs from the typical
Thales Netherlands family of I-Masts
: The Korean solution is not a "1 piece" integrated mast, but rather a radar module in cubic shape designed to be fitted at the top of a conventional mast.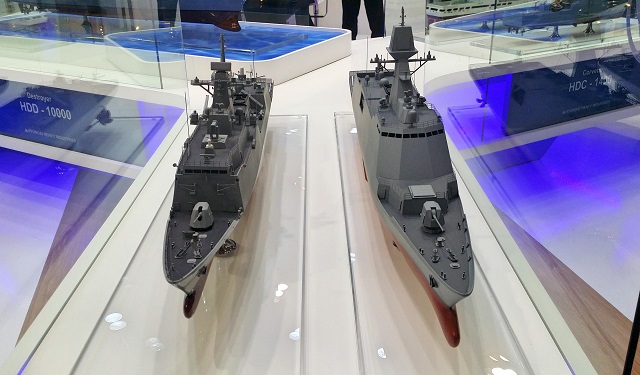 FFX Batch I (left) and Batch III (right)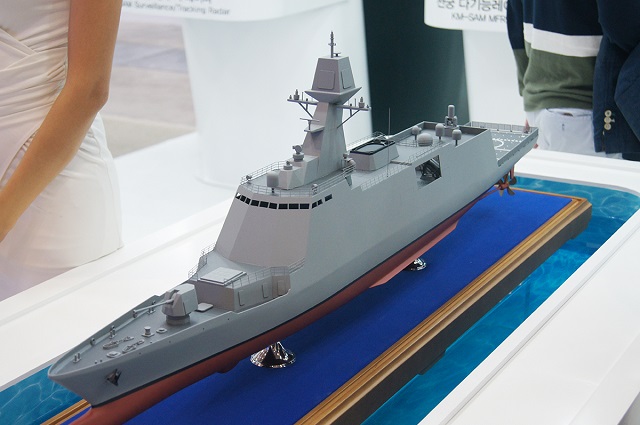 FFX Batch III model
The FFX-B3 Frigate design itself is a tentative one based on the proposal from Hyundai. Compared to the existing
FFX Incheon Batch I Frigates
and based on the scale models, the Batch III appears to be slightly large in all aspects (length, width, eight) with sleeker lines to maximize its low observable characteristics. The FFX Batch III design is closer to the FFX Batch II as both share VLS systems (which are absent on the first Batch).
LIG Nex1 will provide a range of ship-launched SAMs which will see their first use with FFX Batch II (and with LST-II and MLS-II that use the same sensors as FFX or PKX). The FFX VLS will also be able to employ VLS-launched variants of Haesung-I and Haesung-II series missiles (short-range tactical missile and long-range 'strategic' missile). The Red Shark VL-ASROC will be added to Incheon's existing ASW kit.