a
DIMDEX 2012 - Show Daily News
DIMDEX 2012 holds Diplomat and Media Briefing
With the third Doha International Maritime Defence Exhibition & Conference (DIMDEX 2012) fast approaching, a Diplomat & Media Briefing was held this morning at the Sheraton Hotel to ensure that visiting VIP delegations and warships are up-to-date with all arrangements for the event in March 26-28.

Many guests attended the occasion, including defence attaches, ambassadors, media and sponsors.

Speaking at the event were Staff Colonel (SEA) Abdulbaqi Saleh Al-Ansari, Deputy Director of DIMDEX, Major (SEA) Mohammed Desmal Al-Kuwari, Warship and Logistics Director, Mohamad Nabhani, Director of Exhibitions at DIMDEX, David Roberts, Deputy Director of RUSI – Qatar and Bob Nugent, Vice President, Advisory Services, AMI International.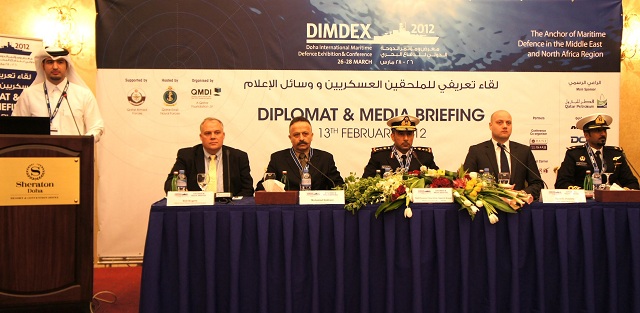 In his welcome speech, the Deputy Director of DIMDEX, Staff Colonel (SEA) Abdulbaqi Saleh Al-Ansari, thanked all guests for accepting the invitation and for the cooperation with the organization team. "Our aim is to fulfil all expectations and to conduct yet another successful exhibition", added Abdulbaqi.

The event covered a variety of topics including:

• The exhibition programme
• Topics and speakers for The Middle East Naval Commanders (MENC)
• Security protocol and logistics for visiting warships and submarines
• The VIP delegation management system