a
DIMDEX 2012 - Show Daily News
Navy Recognition selected as DIMDEX 2012's Online Daily News Provider and Media Partner
The third Doha International Maritime Defence Exhibition and Conference (DIMDEX 2012) has announced the selection of Navy Recognition as Official Online Daily News Provider and Media Partner. DIMDEX 2012 will be staged in the new Qatar National Convention Centre (QNCC) in March 26 - 28.

Following the success of Army Recognition in the land forces and security sectors (7.3 million readers in 2011, 8 million pages read per month, 15,000 to 20,000 readers per day from 90 countries), Navy Recognition was launched in late 2011 with the same proven and successful concept applied to the Naval Defense sector:

· Online Promotional & Marketing Services dedicated to the Naval Defense & Maritime Security industry
· Online defence magazine with daily news and defence exhibitions coverage
· World Navies Warships and Equipment technical data sheets
· Online digital information database

The organizers of DIMDEX 2012 understood the value of using the notoriety and popularity of the online naval defense magazine, Navy Recognition to cover their event through Online Daily News and to increase the worldwide exposure of both their event and their exhibitors on the web.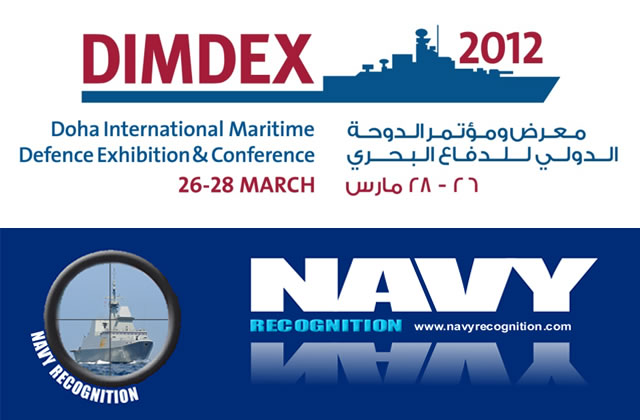 DIMDEX 2012 Selects Navy Recognition as Online Daily News and Media Partner
Through the combined use of proven search engine optimization technologies and social media, Navy Recognition will be able to create an online window of the exhibition which will facilitate networking and exchange between exhibitors and key players of the naval defence and maritime security industry worldwide.
With studies showing a decrease of 25% readers for the written press, the Internet is the best medium to reach people on a global scale today.
Navy Recognition proposes innovating solutions with online promotion, communication and marketing for the naval defence and maritime security industry.
For DIMDEX 2012, Navy Recognition provides a free service to all exhibitors: the dissemination of their latest press releases on the DIMDEX 2012 online Show News Daily.
Simply send your DIMDEX 2012 related press release to

This email address is being protected from spambots. You need JavaScript enabled to view it.
Navy Recognition offers a wide range of online marketing and advertising solutions such as product technical data sheets, company profiles, banners, logos, videos etc.
Thanks to their indexing technology and the worldwide popularity of their website, they guarantee to increase the worldwide exposure of your products, services or company to the top results of search engines.
Contact:
____________________________________
Come see us during DIMDEX 2012 on stand N 103
Marketing Team
This email address is being protected from spambots. You need JavaScript enabled to view it.
50 rue A. Briand
95520 Osny – France
Tel +33 662 533 120