a
Euronaval 2012 - Show Daily News
Rheinmetall MASS_DUERAS new naval countermeasure system unveiled at Euronaval 2012

Rheinmetall presents for the first time at Euronaval 2012 its new naval countermeasure MAAS_DUERAS,an enhanced optional version of MASS. In the realm of active protection, Rheinmetall supplies high-performance "soft kill" solutions for ground vehicles, fixed-wing aircraft, helicopters and ships. Smoke/obscurant protection systems like ROSY render vehicles invisible to the enemy if attacked, while Rheinmetall's Multi Ammunition Softkill System (MASS) naval countermeasures system now sets the standard worldwide.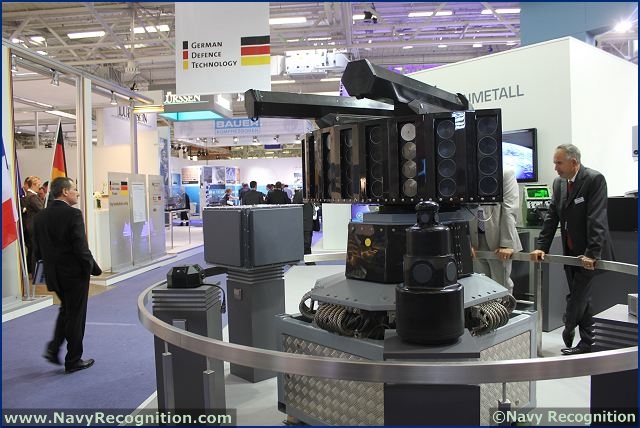 Rheinmetall MASS_DUERAS naval countermeasure system at Euronaval 2012
Rheinmetall's MASS naval countermeasure system protects ships from attacks with modern, sensor-guided anti-ship missiles on the high seas and littoral zones as well as from asymmetric, terrorist-type threats by firing decoy rounds which diverts incoming missiles from their intended target.

It is connected to the ship's sensors and protects ships from attacks by advanced, sensor-guided missiles, by launching decoys, that operate in all relevant wavelengths on the electromagnetic spectrum (ultra violet, electro-optical, laser, infrared and radar). MASS can be either plugged into the command and control module of a naval vessel, or operate autonomously.

The Group now offers an enhanced optional version of MASS. The MASS_DUERAS is a piggyback solution. It features launching tubes for distraction rockets mounted on top of the MASS launcher. Anti-torpedo distraction rockets will also be available soon.