a
Euronaval 2012 - Show Daily News
DCNS presented an export version of its FREMM Frigate and its Gowind range at Euronaval
At Euronaval 2012, DCNS displayed for the first time an export version of its FREMM Multi-mission Frigate with various weapons never seen before on this class of ship. The French Shipyard also showcased its range of Gowind Corvette and OPV.
(Video: DCNS)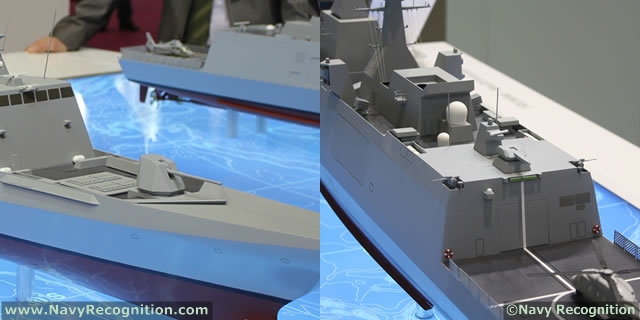 Details of the FREMM model at Euronaval, fitted for the first time with Oto Melara 127/64 Vulcano main gun and Rheinmetall Millenium gun
The FREMM is a front-line warship designed to form the operational backbone of major navies. The FREMM class can respond to all kinds of threats, whether from land, sea or air. Acting alone, a FREMM can assume a multitude of missions, from escort duties to naval gunfire support. As part of a joint task force, a FREMM can accommodate a fleet operations staff and, with an excellent C4ISR capability, can direct warfare in one or several spheres.

At Euronaval 2012, a FREMM model was shown for the first time fitted with Oto Melara's 127/64 Light Weight main gun and with a Rheinmetall Millenuim gun on top of the helicopter hangar. The presence of these new (for the class) weapons on the model is an indication of DCNS' expertise in weapon systems integration, as well as the adaptability of the SETIS combat management system.

The 127/64LW gun can be installed on large and medium size ships, for surface fire and naval gunfire support, with anti-aircraft fire as its secondary role. The compactness of the gun feeding system makes possible the installation on narrow section crafts. The gun can fire all standard 127mm/5 inches ammunition including the new Vulcano long range guided ammunition. VULCANO is a family of Extended Range (ER) unguided ammunition and Long Range (LR) guided ammunition for the 127mm naval guns and 155mm land artillery system. VULCANO is a new and emerging technology based upon a fin stabilized airframe with canard control for terminal guidance; mechanical interfaces are same than standard 127mm ammunition. Various configurations for VULCANO projectiles are available for 127mm naval gun as unguided extended range multirole ammunition, guided long range ammunition with IR seeker and autonomous IMU / GPS guided ammunition.

The Oerlikon Millennium 35mm Naval Gun System is a Close-in weapon system designed by Rheinmetall. A device at the muzzle end of the barrel measures the exact speed of each round as it is fired, and automatically sets the fuse to detonate the round as it approaches a pre-set distance from the target. Each round disperses 152 small projectiles to strike the incoming target.
(Video: DCNS)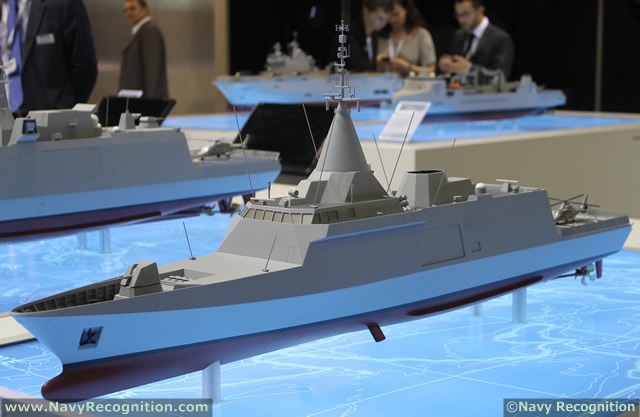 The Gowind Combat Corvette at Euronaval 2012
Models of a Gowind "Combat" and Gowind "OPV" were also on display at DCNS stand during Euronaval.
Integrated with SETIS, a combat system derived from FREMM, Gowind Combat Corvettes are true light frigates: They can tackle air, surface and submarine threats. The shock-resistant platform (built according to military standards), the small radar cross-section together with an excellent acoustic signature make it a high-performance surface combatant. The model shown at Euronaval
closely matched the one we saw earlier this year at DSA in Malaysia
, except with different weapon systems.
(Video: DCNS)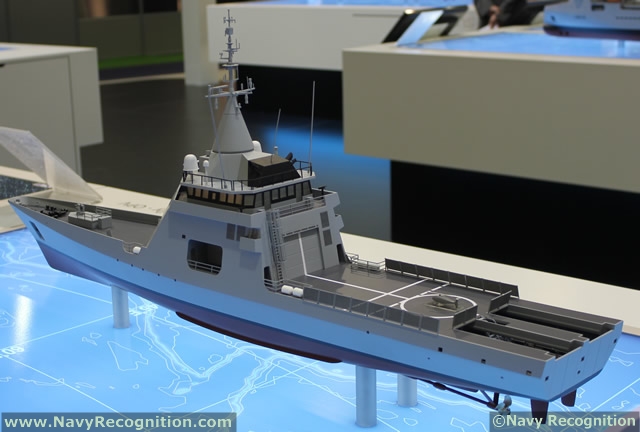 The Gowind OPV at Euronaval 2012
Specially designed for maritime protection and security missions, the Gowind OPVs from DCNS can carry all the prevention and action assets necessary for surveillance and policing tasks at sea, including fast commando boats, assault or transport helicopter, unmanned surveillance vehicles, electronic warfare interceptors, shell plating doors, secure high bitrate communication facilities and command aids. Thanks to exceptional endurance and manned by crews as small as thirty persons, the Gowind OPVs provide an economical solution for ocean surveillance and security.

Gowind OPV "L'Adroit" was built under a self-funded DCNS programme in conjunction with equipment manufacturers contributing high-performance products. Gowind OPV "L'Adroit" was made available to the French Navy which is currently evaluating the ship and its systems.