a
LIMA 2013 Daily News - MBDA at LIMA 2013
MBDA at LIMA 2013: Multiple Solutions for Multiple Missions
At the Langkawi International Maritime and Aerospace exhibition 2013, MBDA will again demonstrate its unique status as the only company with a product catalogue capable of meeting the guided weapons requirements of all three armed services: air, land and sea.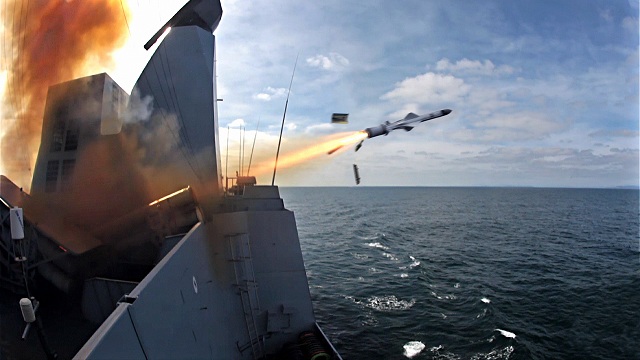 Exocet MM40 Blk III Anti-ship missile launched from an Horizon class Air Defense Destroyer
Picture: MBDA
With both naval and ground based air defence being a key concern for many nations around the world, especially with the onset of ever more dangerous and technologically advanced airborne threats, prominently displayed on MBDA's stand at the exhibition will be a number of solutions focusing on Aster, VL MICA, CAMM and Mistral missiles. Additionally, with the Royal Malaysian Air Force looking for a new multi-role combat aircraft (MRCA) to replace the country's MiG29s, MBDA will be showcasing a number of air-launched weapons capable of maximizing the operational capability of today's modern air forces.

Visit MBDA during LIMA'13 on stand C 1282.