a
LIMA 2013 Daily News - HGH at LIMA 2013
HGH at LIMA 2013 showcasing its Vigiscan infrared panoramic surveillance system
HGH Infrared Systems has capitalized over 30 years of success in infrared technologies for security, industrial and civil applications. With the mission to offer the best cutting-edge products and services to clients, HGH has consolidated its core businesses on:
• Defense and Civil Security, with its unique, multi-awarded, infrared panoramic surveillance system, named Vigiscan.
• Thermography for Industrial applications, with its complete line of IR scanners and sensors to monitor rotary kilns.
• Optronic Test and Measurement Equipment, with products ranging from blackbodies and collimators to integrated test benches, for laboratories and IR sensors developers.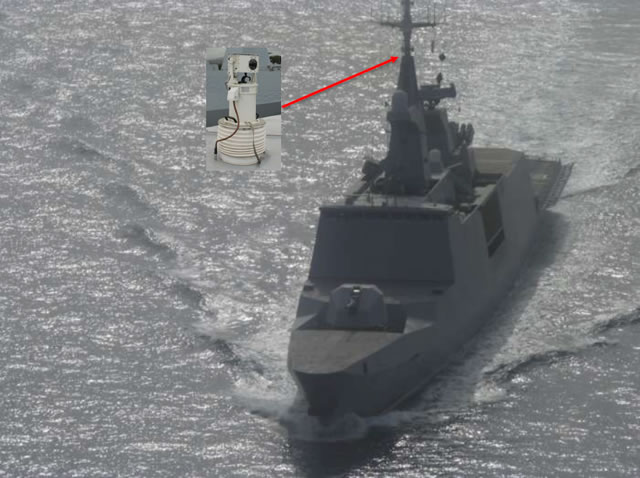 HGH Vigiscan is fitted on French Navy Lafayette class Frigates
Picture: HGH
Seeking out customer satisfaction, through innovation and technical excellence, HGH has built a world-wide reputation for years now, with an export turnover ratio of 80% and offices in France, Singapore, China, India and USA.

In order to fulfill worldwide increasing demands in efficient surveillance systems, HGH Infrared Systems has developped an innovative thermal panoramic system, called Vigiscan.

Vigiscan is the world's only real-time, rotating head, thermal imaging system for security and surveillance. The compact, ruggedized sensor instantaneously images a full 360° scene at a rate of one image per second for automatic, real-time, intrusion detection and tracking. Thus, Vigiscan is a "radar-like" scanning system, operating in the thermal imaging bands. In addition, thanks to a high image quality, with unique 12 Mpix output resolution, Vigiscan enables target identification, on unlimited zoom windows.

With an ultra-wide 360-degree panoramic field of view, plus continuous monitoring capabilities, Vigiscan ensures that no event or disturbance goes unnoticed. The high-sensitivity, infrared, revolving camera head can detect a human from a distance of 1 to 3 km, even in total darkness, through fog, smoke, or hazy conditions.

Visit HGH during LIMA 2013 on stand C1067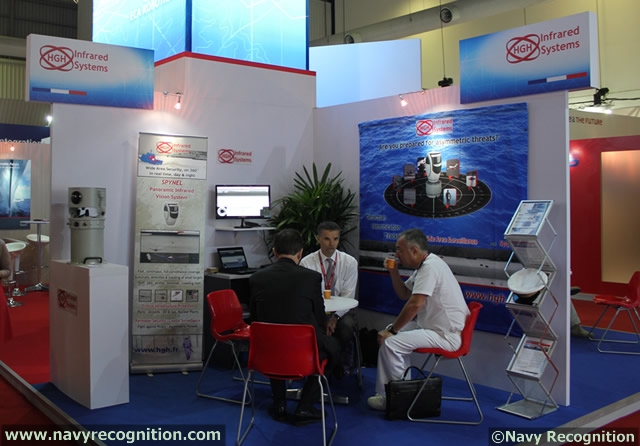 HGH booth during LIMA 2013