a
BALT MILITARY EXPO 2014 Show Daily - Press Release
Navy Recognition selected as Official Online Show Daily for BALT MILITARY EXPO 2014
The 13th Baltic Military Fair BALT-MILITARY-EXPO 2014 has selected Navy Recognition as Official Online Show Daily. BALT-MILITARY-EXPO will be held from 24 to 27 June 2014 at the AMBEREXPO Exhibition & Convention Centre, Gdansk in Poland.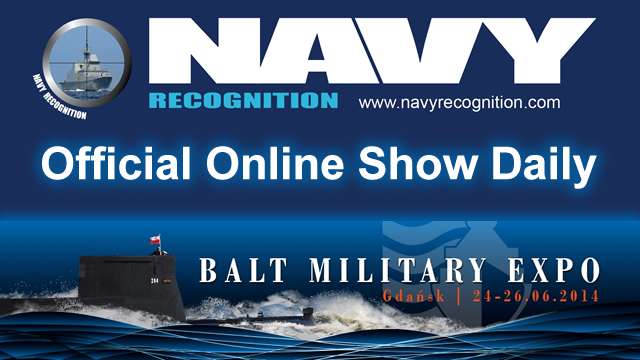 If you want your company press releases in the official online show daily simply send your press releases and pictures to:
»
This email address is being protected from spambots. You need JavaScript enabled to view it.
There is no charge to submit product information and press releases but we can not guarantee that all press releases will be published.
Do you need some advertising and marketing solutions to increase your impact and exposure before, during and after BALT-MILITARY-EXPO exhibition?
Contact their marketing team now:
This email address is being protected from spambots. You need JavaScript enabled to view it.
Tel: +33 662 533 120
About Navy Recognition:
Navy Recognition is one of the most popular online magazine dedicated to Naval Defense and Maritime Security Industry. Our Company provides a full range of advertising and marketing services to increase your global exposure on the Internet..