a
BALT MILITARY EXPO 2014 Show Daily - TKMS
ThyssenKrupp Marine Systems Exhibiting at BALT-MILITARY-EXPO 2014 in Poland
ThyssenKrupp Marine Systems, one of the leading European system providers for non-
nuclear submarines and high-end naval vessels, is participating at the 13th BALT- MILITARY-EXPO Baltic Military Fair, at the AMBEREXPO Exhibition & Convention Centre, from June 24 to 26 , 2014, in Gdansk, Poland. At theThyssenKrupp Marine Systems booth no. A25 , visitors can experience an interactive display of a wide range of submarines and naval surface ships.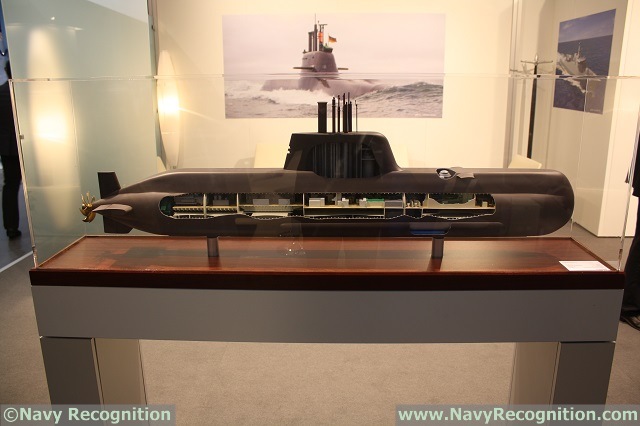 HDW Class 214 Submarine model on TKMS booth at Balt Military Expo 2014
Visitors may also learn about HDW Class 212A, non-nuclear, air-independent compact submarine which features high payloads for sensors, communication equipment, weapon control systems and weapons.

The non-magnetic construction and acoustically optimised equipment results in submarines that are nearly impossible to detect. They provide comprehensive capabilities to conduct missions in deep offshore seas as well as in extremely shallow littoral waters. Submarine HDW Class 212A is, among others, in use within NATO Navies of Germany and Italy.

It is, as well as HDW Class 214, based on the HDW Fuel Cell Propulsion System, the world-wide leading air independent propulsion system which has proved its robustness and reliability over decades and has been ordered for 36 submarines so far. More information on the HDW Fuel Cell Propulsion System can also be obtained at the booth.

HDW Class 214 is based on the proven design principles of the HDW Class 209 family with additional incorporation of innovative features of HDW Class 212A. The submarine represents a matchless, cost-effective solution for future-oriented navies, which is predestined for anti-surface ship/submarine operations, intelligence, surveillance and reconnaissance tasks as well as for special forces operations.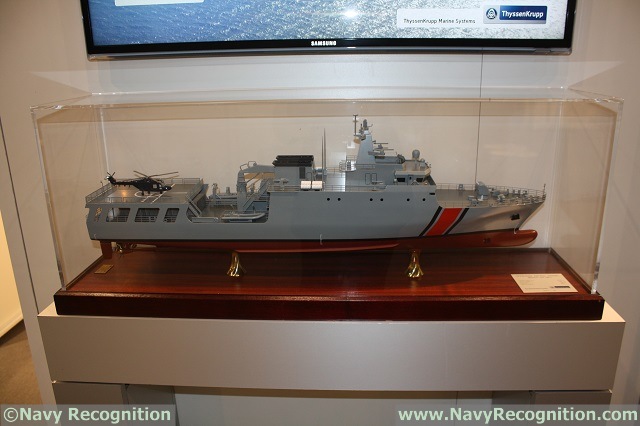 Blohm+Voss MEKO 100 Offshore Patrol Vessel model on TKMS booth at Balt Military Expo 2014
Blohm+Voss Class MEKO® Offshore Patrol Vessels are designed to the rules and regulations of the Classification Society Germanischer Lloyd. Modified and augmented where required to incorporate naval features and standards, the Blohm+Voss MEKO OPV is a most cost-effective vessel to acquire and operate.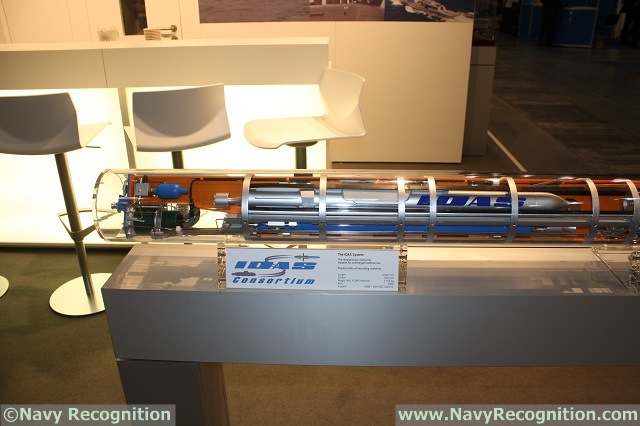 IDAS Missile system model on TKMS booth at Balt Military Expo 2014
Missile System IDAS, the innovative Interactive Defence and Attack System for Submarines (IDAS) is a lightweight fibre-optic guided missile for submarines. IDAS has been developed by the IDAS consortium. As a multi-purpose weapon system, it enables the submerged cruising submarine to engage airborne, surface and coastal targets with a high degree of precision. The uniqueness of IDAS is founded on the missile's ability to be linked to the submarine's combat operations centre via a fibre-optic cable link during the entire duration of the mission. The IDAS concept has shown its feasibility in three successful firing tests. After having finalised its detailed design phase and qualific ation IDAS will be ready to go into series production.