a
BALT MILITARY EXPO 2014 Show Daily - DCNS
DCNS exhibits at Balt military expo 2014 – booth A38 24th to~26th June, Gdansk , Poland

DCNS exhibits at BALT MILITARY EXPO 2014 which will be held in Poland from 24 to 26 June 2014. DCNS is a world leader in naval defence and an innovator in the energy sector. As a naval prime contractor, shipbuilder and systems integrator, DCNS combines resources and expertise spanning the naval defence value chain and entire system lifecycles. DCNS delivers innovative solutions from integrated warships to strategic systems, equipment, services.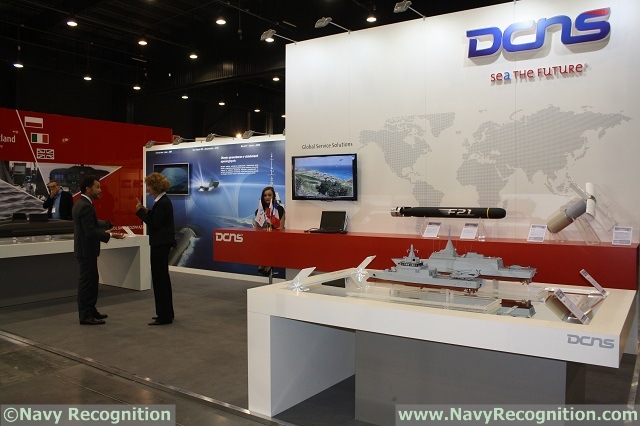 DCNS stand at Balt Military Expo 2014
In addition, DCNS has consistently demonstrated that it can be a key partner for navies to expand their operational capabilities. The Group has a true tradition of transfer of technology and has developed a technology transfer methodology based on the progressive transfer of skills and know-how in conjunction with the phased expansion of local industrial capabilities.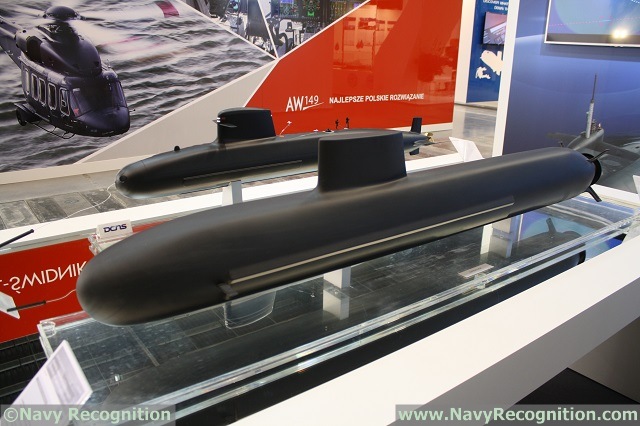 Barracuda SSN (foreground) and Scorpene SSK (background) models on DCNS stand
at Balt Military Expo 2014
The DCNS stand showcases:
Submarines
• The Scorpene medium-size submarines, already chosen by the Chilean, Royal Malaysian, Indian and Brazilian Navies, represent the state-of-the-art in submarine design and construction and benefits from the latest technologies developed for nuclear-powered classes operated by the French Navy, particularly as regards acoustic discretion and combat system performance. DCNS is drawing on 100 years' experience as a designer and builder of diesel-powered submarines, over 50 years' experience in nuclear powered subs, combining the latest advances in acoustic discretion and propulsion.
• The Barracuda SSN, a nuclear submarine for the French Navy, is dedicated to deal with an ever-growing array of challenges. The Barracuda is designed to undertake blue-water missions anywhere in the world; and to do so either alone or as part of a naval force. The first-of-class SSN Suffren is scheduled to start sea trials early 2016. Six Barracudas will replace the six Rubis/Améthyste-class boats currently in service.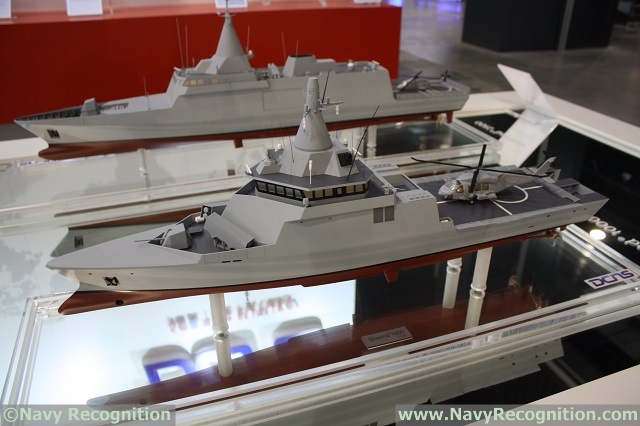 Gowind 1000 (foreground) and Gowind 2500 (background) models on DCNS stand
at Balt Military Expo 2014
A wide range of expertise in surface ships
• The Gowind® 2500 is a multi-mission corvette (100 metres, over 2,000 tonnes). A fully militarised platform, she has a comprehensive Mission Management System for full-scale multi-threat missions, including a complete ASW suite with towed array sonar and improved stealth and survivability.
• The Gowind 1000 is a new fast and reconfigurable naval asset, ready to face 21st challenges: A high speed vessel capable of fast intervention against emerging threats, with a significant autonomy for deployment from littoral to deep ocean environments in time of crisis. An innovative design with DCNS panoramic mast, UAV integration and a large modular mission bay. This highly versatile design allows quick reconfiguration according to the mission assigned. Highly automated, with a crew reduced to 44, the Gowind 1000 takes benefit of DCNS experience to design complex warships and integrate Combat systems thanks to its long term relationship with the French and foreign Navies.