a
BALT MILITARY EXPO 2014 Show Daily - Anti-diver grenade
ZM Tarnow showcasing its 40mm grenade launch with anti-diver grenade at Balt Military Expo 2014

At the 13th Baltic Military Fair BALT-MILITARY-EXPO 2014 currently held in Gdansk, Poland, ZM Tarnow (a member of Polish Defense Holding PHO) showcases its 40mm multi-shot grenade launcher with a special anti-diver grenade ammunition from Arcus Co.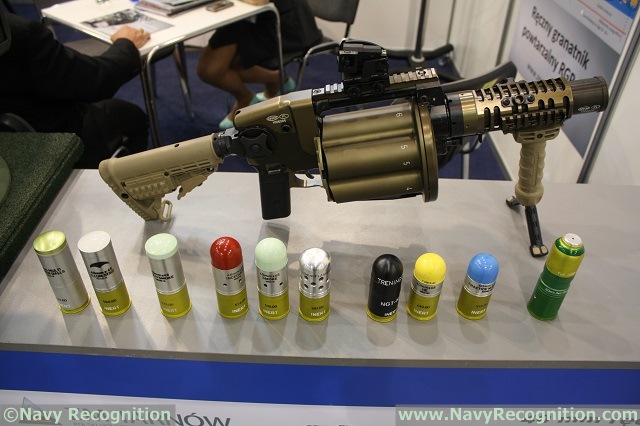 ZM Tarnow 40 mm Multi-Shot Grenade Launcher RGP – 40 at Balt Military Expo 2014
The 40 mm Multi-Shot Grenade Launcher RGP – 40 is a semi-automatic, six-shot weapon using 40 mm x 46 NATO grenades. It has an integral cartridge drum with six chambers with a length of 140 mm, which allows to use a wide variety of ammunition, including special types. The weapon is fully adapted both for right and left handed gunners. It is equipped with adjustable butt and universal mounting rail for attaching collimator sight. On the barrel cover there are three rails for mounting additional accessories. During the firing from the RGP – 40 it is possible to cover with fire an area of 20x60 meters in a few seconds at a distance of up to 400 meters.

The 40 mm Multi-Shot Grenade Launcher RGP – 40 is intended to eliminate and disable manpower, destroy military devices, buildings, light armoured vehicles and create smokescreens and any other non-lethal actions.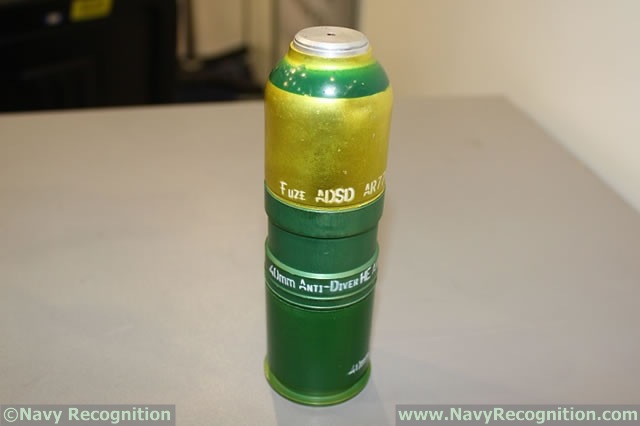 Detailed view of anti-diver grenade
The 40x46mm Anti-Diver High Explosive Grenade with self destruction AR476 MA/M2 (ADHE-SD) is intended for ship and harbour protection against enemy combat divers up to 400 meters.

AR476M1 features impact, delayed action fuze with self-destruction. At impact in water the fuze delays its action for +3.2/-0.5 seconds and initiates the grenade. The explosion creates over pressure ensuring defeat effect in water within the radius of 17 meters with 3.5 atm. and shock effect within 90 meters with 0.5 atm. If no explosion after impact occurs, the fuze shall ensure grenade self-destruction.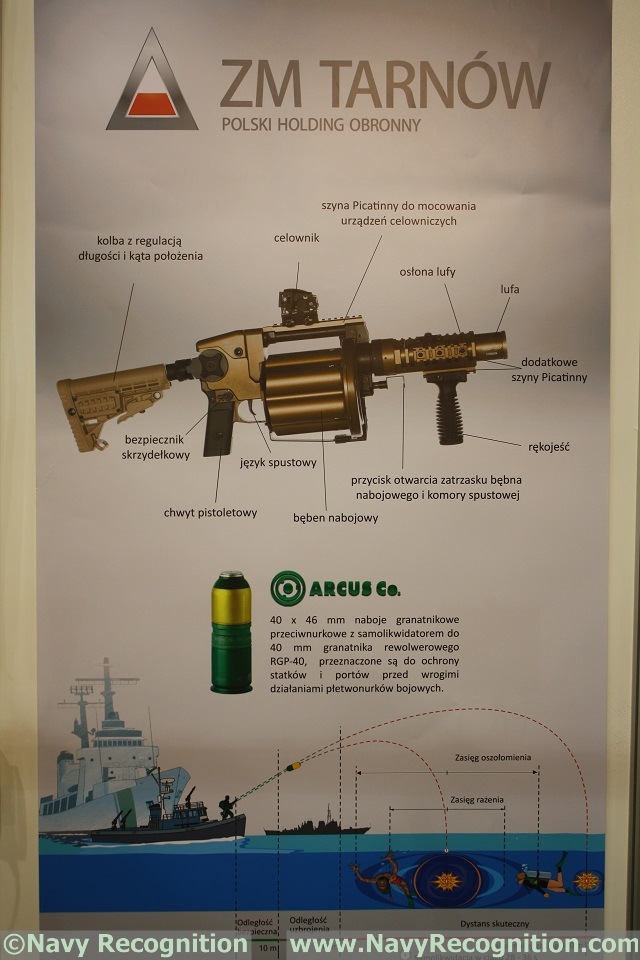 schematics of typical use
AR476M2 features time (self destruction) fuze without PD effect. The fuse initiates within 19s to 23s. The grenade has defeat effect in water within the radius of 19 meters and shock effect within 100 meters.

Safety distance must be not less than 1000 meters for friendly divers and 100 for light boats.