a
BALT MILITARY EXPO 2014 Show Daily - Gowind 1000 corvette
At Balt military expo 2014 DCNS unveiled the new Gowind 1000 corvette

At BALT MILITARY EXPO 2014 which was be held in Poland from 24 to 26 June 2014, DCNS unveiled a new member in its Gowind range: The Gowind 1000. According to DCNS it is a new fast and reconfigurable naval asset, ready to face 21st challenges: A high speed vessel capable of fast intervention against emerging threats, with a significant autonomy for deployment from littoral to deep ocean environments in time of crisis.

An innovative design with DCNS panoramic mast, UAV integration and a large modular mission bay. This highly versatile design allows quick reconfiguration according to the mission assigned. Highly automated, with a crew reduced to 44, the Gowind 1000 takes benefit of DCNS experience to design complex warships and integrate Combat systems thanks to its long term relationship with the French and foreign Navies.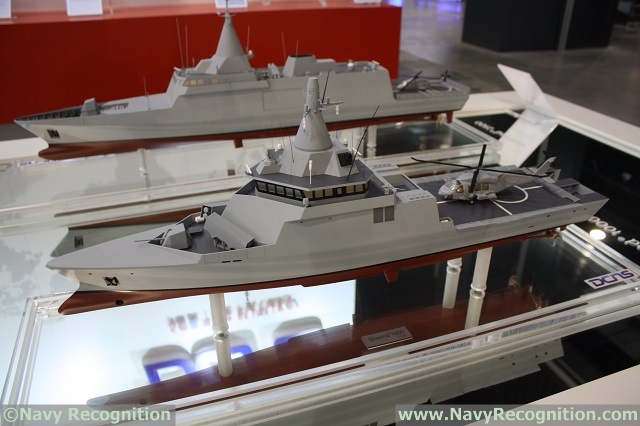 Gowind 1000 (foreground) and Gowind 2500 (background) models on DCNS stand
at Balt Military Expo 2014
DCNS is offering this design to Poland which at the stage of technical dialogue. The Gowind 1000 completes the Gowind range and fits in between the Gowind 2500 (formerly known as Gowind "Combat") already selected by the Royal Malaysian Navy, and the Gowind OPV L'Adroit.

The Gowind 1000 actually looks similar to what a weaponized L'Adroit OPV could be. The model shown at Balt Military Expo 2014 was fitted with:
- 2x Dual MBDA MM40 Exocet antiship missile launchers
- 2x Quad VLS with MBDA VL Mica surface-to-air missiles
- 2x Nexter Systems Narwhal 20mm remote weapon stations
- 1x Oto Melara 76mm main gun
- 1x Integrated mast to integrate most sensors in a low observable design

Similar to L'Adroit OPV, the main bridge of the Gowind 1000 offers panoramic 360° visibility and there are two main ramps allowing for fast deployement and recovery of two RHIBs for special forces or boarding parties.