a
DEFEXPO 2014 Daily News - PIPAVAV Naval Offshore Patrol Vessel
PIPAVAV unveils new Offshore Patrol Vessel design at DEFEXPO 2014
At DEFEXPO 2014, the international Defence exhibition currently held in New Delhi, Indian shipyard PIPAVAV unveiled its new "Naval Offshore Patrol Vessel" design. The basic design of this new type of OPV was outsourced to a US based ship design company.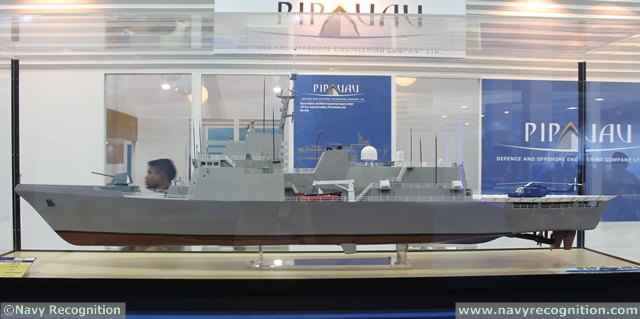 Picture: Navyrecognition
Five "Naval Offshore Patrol Vessels" are being designed and constructed for the Indian Navy. These vessels are capable of enhancing security of the EEZ including the security of offshore assets and out of area contingencies.

These vessels will be carrying out offshore patrolling, ocean surveillance, monitoring of sea lanes of communications, esccorting high value ships and other Fleet Support Operations.

Main Hull of the vessel is being constructed with marine grade "B" steel and indigenously developped DMR 249 steel; Superstructure will be made of alluminium alloy.

The ship is equipped with latest weapons such as AK-630M CIWS, SRGM, Kavach, ACCS, ECDIS, ARPA, DGPS, Integrated Bridge Control System and IPMS along with specified weapon control systems. NOPVs would have maximum speed of 25 knots and endurance of 6000 miles at 16 knots. The vessel is built as per IRS Naval Rules complying IMO, MARPOL & SOLAS standards, Naval MER regulations and other specified International rules.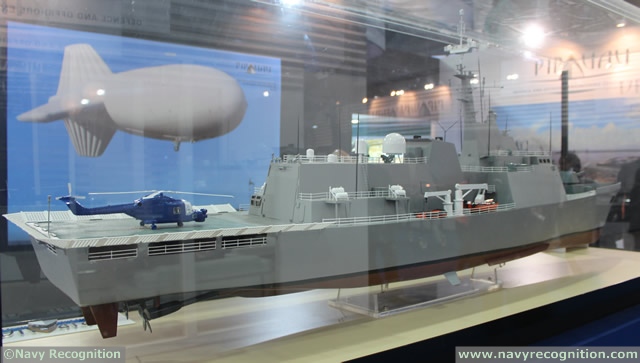 Picture: Navyrecognition
LPD Project

Navyrecognition also learned during DEFEXPO that PIPAVAV along with its partner DCNS answered the Indian Navy RFP for an LPD. The design is a modified version of the Mistral class with pods replaced with two regulars shafts. The 28,000 tons LPD would retain the flat top of the Mistral (hence making it a defacto LHD) and would be capable to accomodate 12 helicopters. According to PIPAVAV representatives at the show, the LPD would be fitted with AK 630 and 12 short range surface to air missiles.