a
DEFEXPO 2014 Daily News - Sagem EOMS NG
Sagem to modernize optronics on French navy's Air Defense Frigates
New Delhi, Defexpo India, February 7th, 2014. The French defense procurement agency DGA (Direction générale de l'armement) has announced its choice of Sagem (Safran) to modernize the optronic systems on four Horizon and Cassard class air defense frigates in the French navy. These ships will be equipped with Sagem's EOMS-NG, New-Generation Electro-Optical Multifunction System.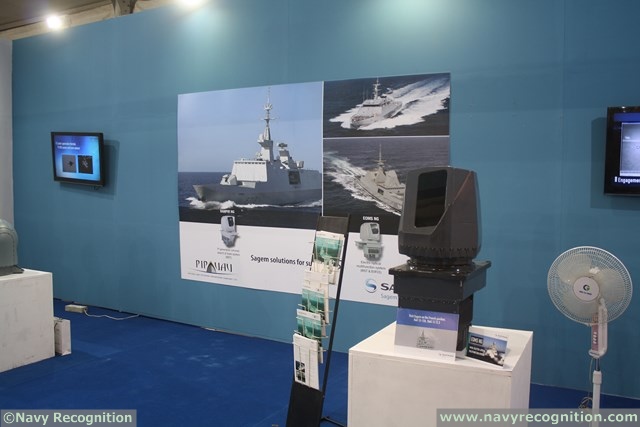 Sagem's EOMS NG on PIPAVAV stand at DEFEXPO 2014
Picture: Navyrecognition
Developed and produced by Sagem, the EOMS-NG is a high-performance, third-generation optronic (electro-optical) system that provides panoramic infrared surveillance, reconnaissance, identification and tracking. The EOMS-NG operates day or night, at sea or in coastal areas, and against all types of threat, whether surface, air or missiles, and conventional or asymmetric. EOMS-NG systems are controlled from Sagem consoles located at the operations center and the close air defense bridge.

The program also provides for complete maintenance of all systems delivered over a period of three years, including spares and the production of a simulation system to train operators at the Naval Instruction Center in Saint-Mandrier.

The EOMS-NG systems will be produced by Sagem's Dijon plant, for delivery from summer 2014 to the end of 2015. Each of the four frigates will be equipped with a system.

Sagem has logged more than 40 years of experience in developing and producing optronic systems for both surface vessels and submarines. The EOMS-NG has been chosen for the Floréal and OPV Adroit class frigates made by DCNS, and Baynunah corvettes for the United Arab Emirates. The VAMPIR-NG, an infrared surveillance version of the EOMS-NG, will be used on Anzac class frigates for Australia and New Zealand, and Australia's aircraft carriers and AWD air warfare destroyers.