a
DEFEXPO 2014 Daily News - TKMS
ThyssenKrupp Marine Systems Exhibiting at Defexpo India 2014
ThyssenKrupp Marine Systems, one of the leading European system providers for non-nuclear submarines and high-end naval vessels, participated at the Defexpo India 2014, New Delhi, from February 6 to 9, 2014. At the ThyssenKrupp Marine Systems visitors could experience an interactive display of a wide range of submarines, missile systems and naval surface ships including:
• HDW Class 214 submarine
• HDW Class 209/1500 submarine
• IDAS Missile System
• Blohm+Voss Class 124 frigate
• Blohm+Voss MEKO A-200 SAN frigate
• Kockums FLEXpatrol stealth patrol vessel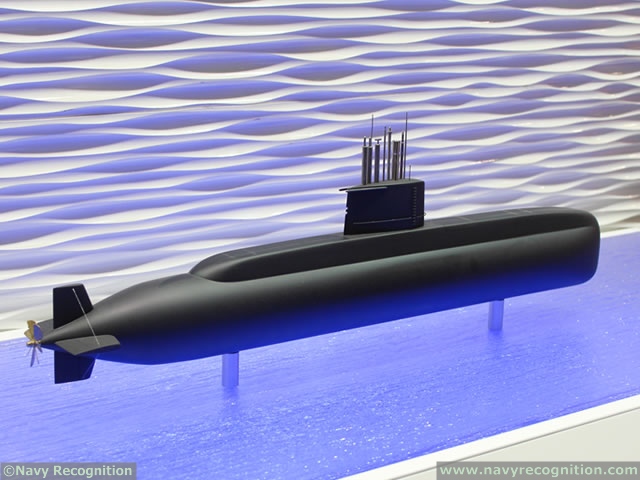 HDW Class 209/1500 submarine model at DEFEXPO 2014
Picture: Navyrecognition
As a leading full-service naval shipbuilding systems and solutions provider, ThyssenKrupp Marine Systems enjoys longstanding strategic ties with India. For more than a quarter of a century, the Indian Navy has been operating four HDW Class 209/1500 submarines, locally known as the "Shishumar" class. The after-sales service provider Marine Logistik GmbH (MARLOG) – which was integrated into ThyssenKrupp Marine Systems last year – has been a partner to the Indian Navy for more than two decades, delivering spare parts for the "Shishumar" class. This successful cooperation is now being continued under the new affiliation. At present, ThyssenKrupp Marine Systems is in discussions with the Indian Navy to support the upgrading of two of these vessels through the integration of the latest weapons and sensors, including HARPOON anti-ship missiles. Furthermore, the company is supplying sophisticated composite structures for the P-28 corvettes currently being built at Garden Reach Shipbuilders & Engineers Ltd.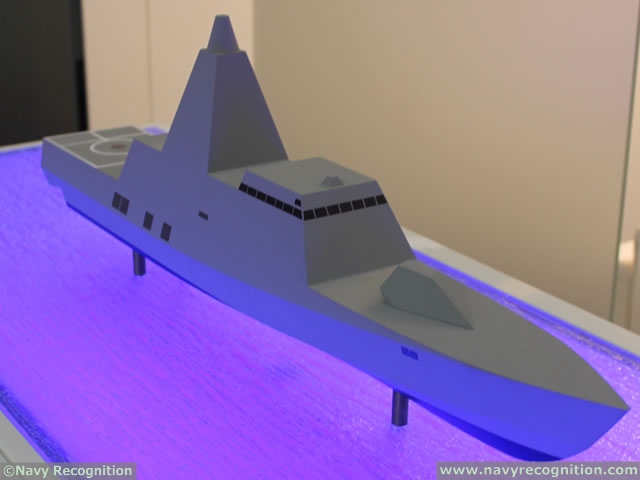 Kockums FLEXpatrol stealth patrol vessel
Picture: Navyrecognition
Long shipbuilding tradition combined with best-in-class technologies
ThyssenKrupp Marine Systems has a long shipbuilding tradition spanning hundreds of years, while at the same time securing the technologies and skills required for the future. As the world's leading system supplier for non-nuclear submarines, ThyssenKrupp Marine Systems has gained massive experience supporting almost 25 countries and their navies. The company's ability to build highly capable submarines in both its home shipyards and in its customers' local facilities when required has contributed significantly to the ongoing success of these high-tech products.

ThyssenKrupp Marine Systems comprises the four operating units Submarines, Surface Vessels, Services and ThyssenKrupp Marine Systems AB. The technological and financial capacity of ThyssenKrupp Marine Systems provides navies with the assurance that its submarines, surface vessels and maritime systems will continue to benefit from long-term development and support. The company with premises in Germany (Kiel, Hamburg, Emden) and Sweden (Malmö, Karlskrona, Muskö) employs around 3,800 employees and is part of the Industrial Solutions business area of the ThyssenKrupp Group.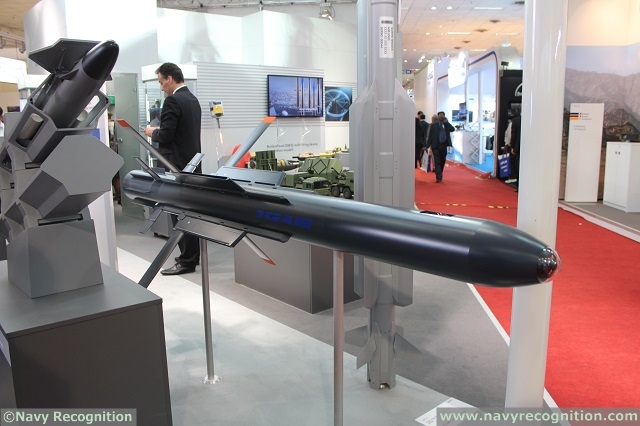 IDAS Missile System at Defexpo 2014
Picture: Navyrecognition
The ThyssenKrupp Group has a strong presence in India
ThyssenKrupp is a diversified industrial group with about 157,000 employees in just under 80 countries and annual sales of around €39 billion. The ties between India and ThyssenKrupp date back to 1860, when the predecessor company Krupp received an order for locomotive tires. Today, India is the third largest market for ThyssenKrupp in the Asia-Pacific region with diversified business activities carried out by local Group companies with around 5,700 employees. The Regional Headquarters for the ThyssenKrupp Group is located in Mumbai. Besides ThyssenKrupp Marine Systems, the Group is represented in India through its various other subsidiaries: The Group company ThyssenKrupp Industries India Ltd. manufactures complete sugar plants, cement plants and machinery and equipment for open pit mining as well as bulk material handling. Uhde India Ltd. is engaged in plant design and engineering for the chemical, petroleum and other industries. ThyssenKrupp Elevator India Ltd. operates customer service centers as well as a comprehensive distribution and customer service network.