a
DEFEXPO 2014 Daily News - INS Vikrant
Indigenous Aircraft Carrier INS Vikrant program update with Cochin Shipyard at Defexpo 2014
During Defexpo India 2014 held New Delhi, from February 6 to 9, 2014 Navy Recognition received some updates on the Indigenous Aircraft Carrier program from Cochin Shipyard representatives.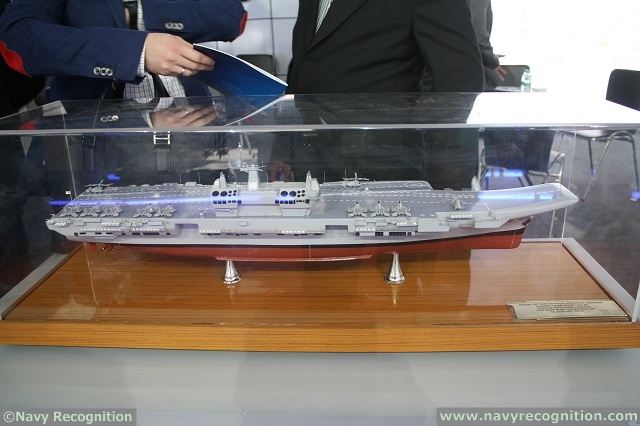 INS Vikrant model at DEFEXPO 2014
Picture: Navyrecognition
INS Vikrant is the first aircraft carrier to be indigeneously built in India. Cochin Shipyard Limited is in charge of the project. Work on the ship's design began in 1999, the keel was laid in February 2009. The carrier was floated out of its dry dock on 29 December 2011 and was launched in August 2013.

We learned during Defexpo that the Island (main superstructure) would be fitted at the end of 2014 and sea trials should start during the year 2018.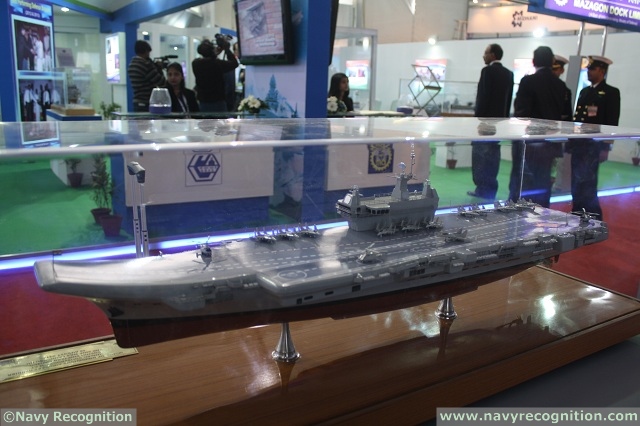 INS Vikrant model at DEFEXPO 2014
Picture: Navyrecognition
Cochin shipyard representatives at the show explained weapons would include AK630M close in weapon systems and some surface to air missiles (they would not comment on the type).

They would not disclose the sensor suites selected for the carrier however they told us that the Combat Management System of the carrier would be entirely indigenous and was currently being developped by India company Tata Power SED.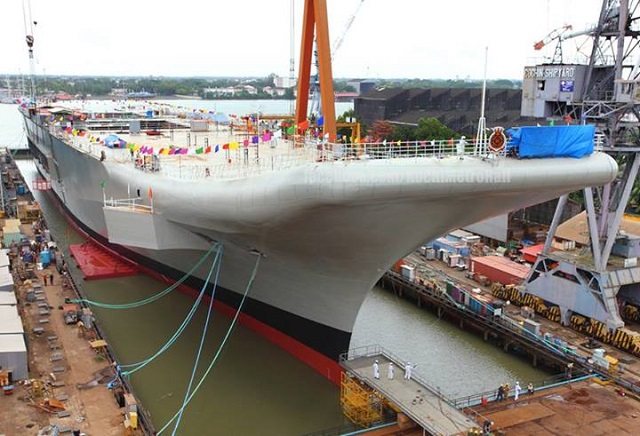 INS Vikrant at Cochin Shipyard in Kochi shortly before its launch
INS Vikrant will displace 37,500-tonnes with a length of 260 metres long and a width of 60 metres. Maximum speed of the ship is announced at 28 knots, the ship reported range is 7,500 nautical miles at a speed of 18 knots. INS Vikrant is set to receive a large crew complement composed of 160 officers and 1,400 sailors.

The aircraft carrier will be able to accommodate 30 fighters and helicopters, including Mig-29K fighters and Ka-31 helicopters .