a
DSEI 2015 Naval Daily News - Safehaven Marine Barracuda
Safehaven Marine Will Display its Barracuda Low RCS Interceptor at DSEI 2015
Irish company Safehave Marine will be present at DSEI 2015 and showcase its new Barracuda stealth interceptor. 'Barracuda' is a new high speed Interceptor / Patrol craft for military and law enforcement applications, designed and built by Safehaven Marine who also manufacture a range of highly successful pilot boats, patrol vessels, S.A.R. craft and research catamarans from their factory in Co Cork, Ireland. The company recently delivered four vessels to the Polish Navy.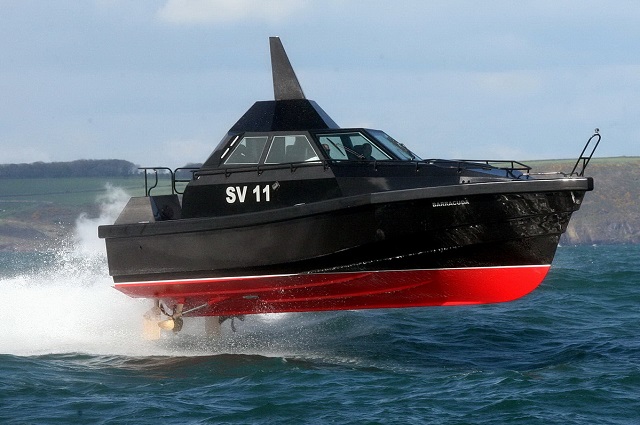 'Barracuda' is a new high speed Interceptor / Patrol craft for military and law enforcement applications, designed and built by Safehaven Marine.
Barracuda, which has been under development for 2 years can be produced at lengths of between 11 – 13m. Typical operational roles for Barracuda include patrol, surveillance and protection of harbour installations and offshore assets and anchorages, covert insertion, as well as high speed pursuit and apprehend of those engaged in illegal and threatening waterborne activities. An array of both lethal and non lethal weapons can be carried concealed below decks in a separate compartment in the forward cabin, and raised when required. The vessel can be deployed by helicopter utilizing its in-built lifting points on deck and at its 11m length, transported easily by ship or road.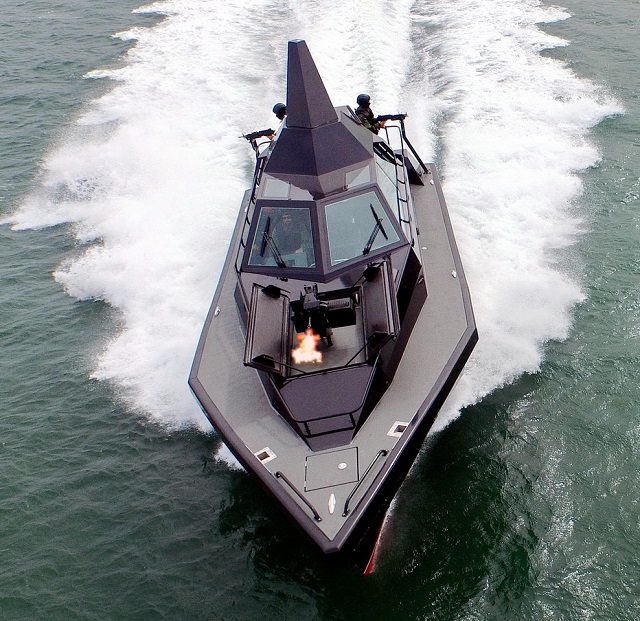 Various different types of both lethal and non-lethal weapons, including a remote control gyroscopically stabilised 12.7mm machine gun / 40mm grenade launcher can be fitted to Barracuda
The innovative design of the vessel utilizes various 'stealth' technology's to produce a low RCS (radar cross section), allowing it to operate with a very significantly reduced degree of visibility to an adversary's radar. The superstructure and hull design of Barracuda utilises flat plane principles to its surfaces, especially so in its f/wd projections, to deflect radar beams away from source, which together with specialized construction and outfitting (RAM), and the adoption of minimal metallic fittings exposed above decks, all of which combine to produce a vessel with a very significantly lower than normal RCS.

The design uses an innovative solution to weapon deployment. Various different types of both lethal and non-lethal weapons, including a remote control gyroscopically stabilised 12.7mm machine gun / 40mm grenade launcher can be fitted to Barracuda. In Barracuda the weapons are cleverly concealed below decks in the f/wd section of the superstructure, and are raised up to above deck level only for deployment through large watertight carbon fibre hatches built into the superstructure. In this way when the vessel is in engaged in surveillance or patrol, the weapons are concealed and the vessels RCS signature is greatly reduced. When the vessel is engaged in pursuit or apprehend modes, the weapons are raised for deployment. Another advantage being that the weapons are hidden when not in use for security, durability and covert reasons, as well as greatly reducing the vessels VCG , extremely beneficial to the vessels seakeeping in heavy weather.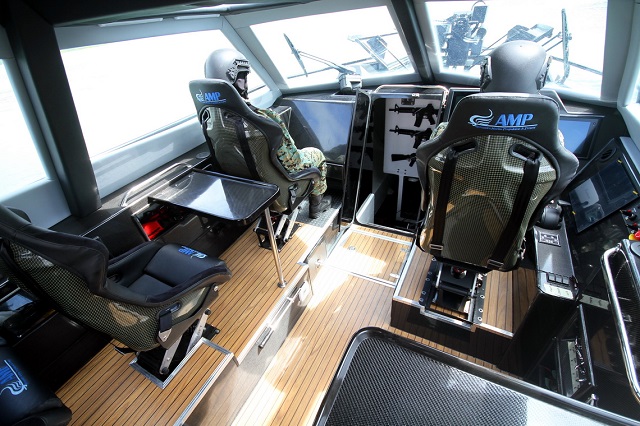 Barracuda features a fully enclosed, climate controlled cabin and can accommodate a crew of 5-6 (or up to 10 in 13m versions) in her main cabin, all on high tech shock mitigation seating dramatically reducing crew fatigue and the risk of impact injury. Additional occasional / survivor seating is provided in the forward cabin. A highly focused helm position allows the helmsman efficient control of the vessel even in demanding conditions, dedicated tactical positions with their own consoles are provided for weapons and navigators positions. Excellent all round visibility is provided by the cabins large glass area.
In addition a range of operator-defined weapons can be installed on her aft deck. Two removable, universal pedestal-mounts can accept systems up to and including the GAU 19/B and in combination with f/wd main machine gun, enable 360-degree weapons coverage including interlocking fields of fire forward, off the beam and aft.

From a naval and military perspective its possible deployment scenarios are far reaching, launched from an 'over the horizon' mothership or base station, covert surveillance can be undertaken for far longer durations, and in much rougher weather than would be possible with conventional RIB's. Covert 'insertion' can be undertaken with a greatly reduced risk of detection, thereby maximising the missions chances of success. Operator and crew safety is enhanced with reduced levels of risk to combatants. The design however does not compromise on practicality or usability and provides for a high level of crew safety (wide sidedecks) for offshore boarding capabilities.

Propulsion on the 11m version featured here is by conventional stern gear chosen for its weight carrying capabilities and durability, alternatively water jets can be fitted for higher speeds and low draft allowing Littoral / Riverine operations. Barracuda is capable of maximum speeds over 40kts+ depending on the propulsion system and equipment installed.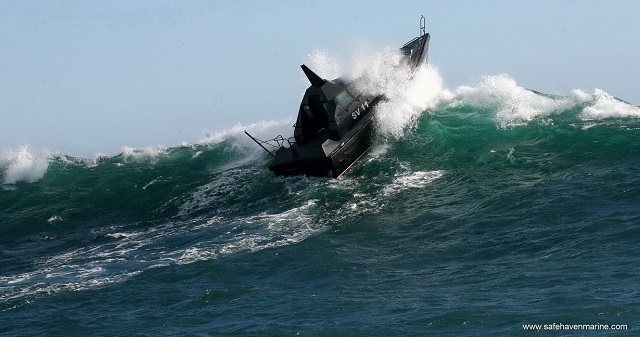 According to Frank Kowalski, managing director "Barracuda was built as a prototype to fully demonstrate and prove the design, It is fully functioning and theoretically fitted with a real weapon fit would be ready for operation, however it is not our intention to sell this prototype, rather we will use it for demonstration purposes, and also more importantly for R&D and development of new systems that we will integrate into the concept. Barracuda took 2 years from initial design concept to a fully sea trailed working prototype."
To ensure the lowest magnetic signature Barracuda is constructed from advanced lightweight FRP cored composites, with extensive use of carbon fibre in its outfitting. As well as a full array of navigation equipment, a range of sonar equipment can be installed to monitor the underwater situation. FLIR Thermal and night vision infrared cameras are integrated for surveillance. A full digital Can Buss electrical system supplied by ETA has been integrated with all onboard systems controlled by touch screen computers at the helm and navigators positions and expandable to potentially allow all crew members the ability to monitor and control the vessels navigation and onboard systems. Optionally ballistic protection can be incorporated to provide protection to the crew compartment utilizing lightweight composite ballistic panels. The front and side glass is ballistic and is directly bonded into moulded recesses without metallic frames.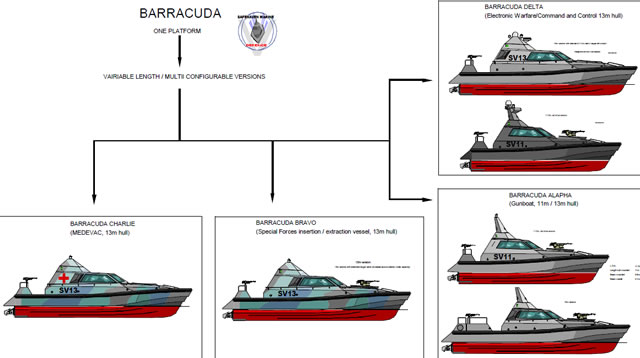 Barracuda is available in different sizes and variants
The Barracuda offers a single platform, multi-configurable tactical concept. Based on a single platform (the Barracuda concept) with a variable length hull, standard or extended cabin lengths offering the versatility of increased accommodation (up to 10), or aft deck area, as determined by its mission parameters. This versatility enables the possibility of multiple configurations, creating a task force based around four mission specific versions:

Firstly as a Gun boat, with Primary mission of force protection, escort, intercept, interdiction, point defence, fire support and flare-ship.
Secondly as a Medivac version, with main weapons removed, casualty space is maximised and can act as support boat for dive operations or S.A.R. lifeboat when required.
Thirdly as an Insertion- extraction, team transport craft, capable of carrying a team of up to 10 with full weapons fit.
Finally as a mission command boat which can accommodate 2 -4 electronic warfare specialists, a mission commander and additional crew as required. The ability is retained to self-defend and deliver additional fire support as needed. The result is a comfortable, secure, highly agile command vessel that can act as the downlink node for battle-space intelligence and can share this information in real-time with the rest of the BARRACUDA task force and other assets. Capable of deploying, operating and recovering UAV/ROVs on standard cabin – larger aft deck versions. The Barracuda concept enables sharing a high degree of commonality (engines, systems, weapons etc, simplifying field service / maintenance).

Visit Safehaven Marine during DSEI 2015 on stand S9-396 and see the Barracuda on diplay at the waterborne section.