a
DSEI 2015 Naval Daily News - Naval Defense Equipment
Video: Naval and Maritime Defence Equipment for Military Use at DSEI 2015
Defence and Security Equipment International DSEI 2015, which takes place at ExCeL London from 15-18 September, has a largest display of small boats and equipment for military and security use. The programme includes two dynamic demonstrations daily, displaying the remarkable capability of at least 10 specialised boats and UAV's, together with associated equipment.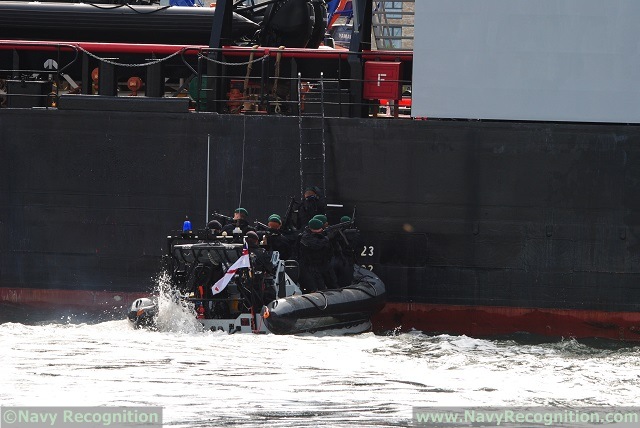 British 43 Commando Royal Marines assault SeaOwl's VN Partisan at DSEI 2015 International Defense Exhibition in London, United Kingdom.
Boats undertaking demonstrations include Atlas Electronik's Aramis, an unmanned surface vessel for mine detection; Delta Power's Phantom rib; Safehaven's Barracuda high speed stealth interceptor; Norsafe's Magnum project boat and Zodiac's SRA SeaRib. A semi rigid boat from Survitec will be deploying vessel stopping gear; Supacat are showcasing an eight metre rib with a new OXE 200hp Diesel engine and BAE Systems will be demoing a Pacific 24 Rib from the Royal Navy Type 23 Frigate. Equipment from Chemring,Drumgrange, Pontoon and Dock and Versadock will also feature as part of the demonstration.

This year DSEI welcomes 43 Commando Royal Marines who provides a demonstration of their boarding capability on two ORCs (Offshore Raiding Crafts), assisted by the SeaOwl Group's VN Partisan acting as a target. The Partisan, which is a commercially owned naval training vessel, also provides a flight deck for the launch of UAVs - Datron World Communications' Sky Ranger remote unmanned surveillance helicopter will be launched from the Partisan's deck to showcase this capability. The inclusion of Partisan will mark the first time DSEI has featured a commercial vessel in its waterborne demonstrations. Other demonstrations include a presentation of the Atlas SEA FOX remote mine hunting equipment.
Naval and Maritime Defence Equipment at DSEI 2015
SeaOwl Group, a service provider specialised in a wide range of asset management, training, security and manpower supply services for the maritime, defence and oil & gas industries, will be marketing its marine defence training services and showcasing its capabilities in the waterborne demonstration area daily at the DSEI Royal Victoria Dock. SeaOwl's VN Partisan, is a 79 metre former platform support vessel fitted with a helideck, an aviation HQ room and a close combat module for commando training missions. VN Partisan is a multi-task vessel where several training missions can be undertaken at the same time with various navy units.

Shane Biggi, Group Marketing Director at SeaOwl said: "SeaOwl is proud to be participating at DSEI. The French Navy, like the Royal Navy and other European navies, have been under pressure to reduce the size of their armed forces and curb their defence budget. In parallel, these cuts created an ever-growing need for better-trained personnel in every existing competence field, and consequently an increased need for training logistics. One of the French Navy initiatives was to find cost effective solutions to improve operational capability by chartering customised vessels to train and requalify their personnel (instead of mobilising one of their frigates). SeaOwl aims to assist other navies in saving resources and delivering high-specification training solutions. DSEI is the ideal platform to showcase Partisan's capabilities and for the Royal Marines to use it in an operational scenario".