a
PACIFIC 2015 Show News - Euronaval 2016 press release
Meet the organizers of Euronaval 2016 naval defence exhibition during PACIFIC 2015

The 25th edition of Euronaval will be held at the Paris Le Bourget exhibition center from 17 to 21 October 2016. Euronaval is the leading Naval Defence & Maritime Exhibition & Conference. Meet the organizers of Euronaval 2016 during PACIFIC 2015 in Sydney, Australia.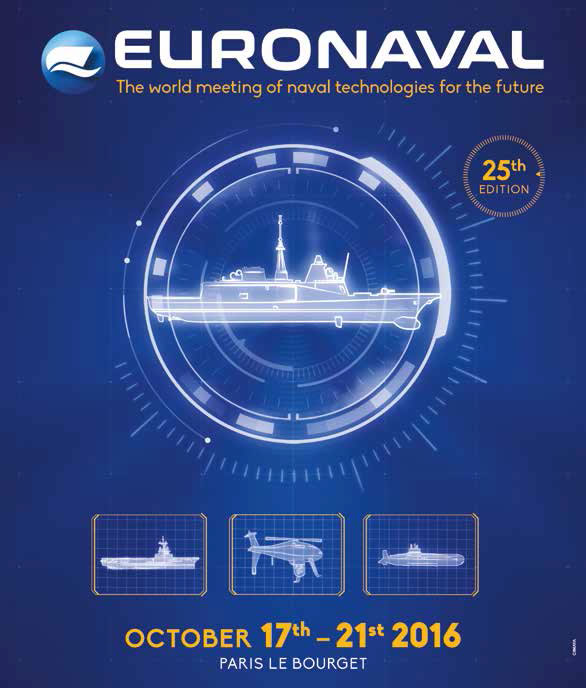 Organized under the joint patronage of the French Ministry of Defence and Secretariat General to the Sea, Euronaval is the unique networking opportunity for industry involved in naval defence, maritime safety and security, shipbuilding, and manufacture for systems and equipments. The specialists, policy makers and buyers from all over the world come to identify the new trends and discover the materials of future. Euronaval is the leading trade show in the naval defence and maritime industry sector.
10 REASONS FOR EXHIBITING
• Participate in the profession's reference show
• Promote your international image
• Support your export ambitions
• Meet your customers and partners
• Elaborate or continue contacts with your future customers
• Discover the technological evolutions
• Identify the viable market
• Anticipate the market evolutions
• Demonstrate the control of your know-how
• Demonstrate the capacity for innovation
EURONAVAL 2014 AT A GLANCE
• 355 exhibitors from 28 countries
• 24,655 trade visitors from 100 countries
• 92 official delegations from 70 countries
• 15,000 sq.m total stand area
Euronaval is now the leading international gathering for the naval and maritime industries with a B2B forum that ensures simple, effi cient networking between SMEs and higher-tier contractors. Today, more than ever, Euronaval is the place to learn about the latest innovations and technologies for naval forces and players in the state actions at sea' sector, the trade show where naval and maritime decisionmakers and contractors do business and the thinkshop for the world's naval and maritime communities.
To schedule a meeting during PACIFIC 2015 please contact:
Sales manager: Jocelyn de Virel -
This email address is being protected from spambots. You need JavaScript enabled to view it.
Sales Assistant: Julie Boozer -
This email address is being protected from spambots. You need JavaScript enabled to view it.
Sales Manager in charge of Maritime Safety & Security, Motorisation and Propulsion: Sabrina Jonas -
This email address is being protected from spambots. You need JavaScript enabled to view it.