a
PACIFIC 2015 Show News - Lockheed Martin
Lockheed Martin to Open Submarine Combat System Lab to Support Australia's Submarine Force
Lockheed Martin Australia will open a submarine combat system laboratory in Mawson Lakes in November 2015 to support the company's pursuit of the Royal Australian Navy's Future Submarine project SEA 1000. Phase 1. Construction began at Mawson Lakes on 27 July 2015 and is expected to open in November.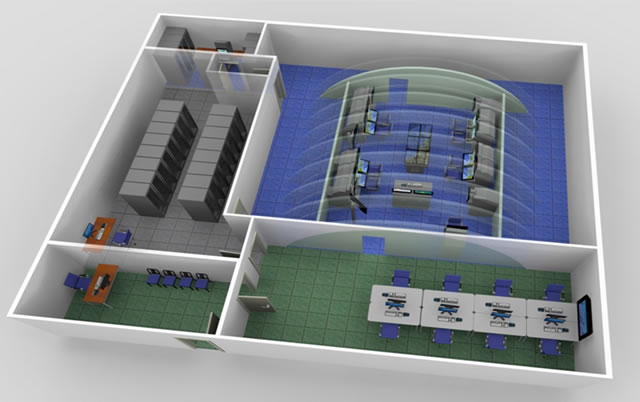 The facility will open in Mawson Lakes in November. Image: Lockheed Martin
An expanded Phase 2 with a secure area is scheduled to open in the third quarter of 2016.

The laboratory includes a reconfigurable submarine command centre to test and validate the Royal Australian Navy's concept of operations in a simulated operational environment. The lab will feature advanced computer processing with reconfigurable hardware, and collaboration space dedicated to bringing known and proven technologies to the next generation of Australian submarines.

"A submarine's combat system is essentially the eyes, ears and sword of the boat," said Raydon Gates, chief executive, Lockheed Martin Australia & New Zealand. "A submarine's tactical effectiveness depends on a fully integrated suite of the best technologies from Australia and around the world. The ability to seamlessly integrate the best sensors, sonar, radar, navigation, imagery systems and weapons will give Australia's future submarine the tactical advantage it needs– and that is what Lockheed Martin Australia will deliver."

Establishing a submarine combat system laboratory in parallel with early stages of submarine design leverages a key lesson learned from the success of the US Navy's Virginia class submarine program. The philosophy we've adapted as the Navy's submarine combat system integrator is one of an open business model based on the premise that no one company has all the answers. The lab will leverage Lockheed Martin's presence and Australian industry cooperation.

Lockheed Martin will collaborate with Saab Australia and Thales Australia & New Zealand in the submarine combat system laboratory initiative. Collectively, Lockheed Martin, Saab and Thales have a very strong record and well-respected maritime domain knowledge and expertise.

The lab is all about risk reduction. It gives us the flexibility to work with the SEA 1000 hull designers and combat subsystem providers in every step of the process. It is proven methodology that also reduces development costs and ensures continued interoperability with an affordable, disciplined plan for sustainment."

The laboratory capitalises on Lockheed Martin's heritage of more than 40 years of demonstrated submarine combat systems integration methodology on submarines for more than seven nations. Lockheed Martin is a full life cycle combat system integrator with expertise in all phases of design, test, integration, certification, delivery and sustainment.