a
PACIFIC 2015 Show News - DCNS
DCNS Will Exhibit at PACIFIC 2015 International Maritime Exposition in Sydney Australia
DCNS looks forward to its participation at this week's 2015 PACIFIC International Maritime Exposition where it will demonstrate why it is Europe's unparalleled leader in naval defence capability and the best long-term partner for Australia's defence requirements.

With a proud history that extends over 400 years, DCNS has a complete range of platforms for the Royal Australia Navy's next generation defence requirements. Platforms such as the Shortfin Barracuda Block 1A, the FREMM multi-mission frigate and the GOWIND ensure DCNS is well positioned to deliver proven solutions to meet the most demanding challenges.

"We look forward to the opportunity to showcase our 400 years of history in the naval domain," said Sean Costello, CEO, DCNS Australia. "DCNS is focused on the needs of the Australian Defence Force and looks forward to partnering with them."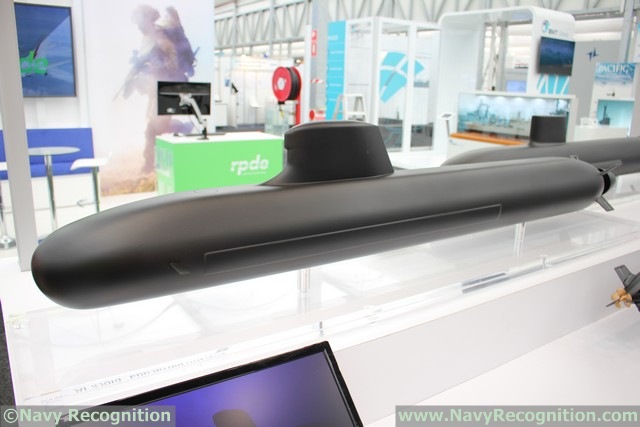 Shortfin Barracuda Block 1A scale model on DCNS stand at PACIFIC 2015
During PACIFIC 2015, DCNS will showcase many of its innovative platforms including:

Shortfin Barracuda Block 1A
For the first time ever, virtual reality demonstrations will enable visitors to learn more about the Shortfin Barracuda Block 1A, DCNS' proposed platform for Australia's Future Submarines. Designed specifically for the Royal Australian Navy, the Shortfin Barracuda is the world's most advanced conventionally powered blue waters submarine. Visitors will be able to learn more about the submarine's cutting edge technology, direct from France's nuclear submarine program Barracuda.
Teaser video: DCNS at PACIFIC 2015
FREMM multi-mission frigate
Visitors will also be able to view a full scale model of the FREMM multi-mission frigate, DCNS' proposed platform for SEA5000 – Australia Future Frigates. The FREMM multi-mission frigate is the most modern front-line ship of the 21st century, designed for supremacy at sea. FREMM is presently the best antisubmarine frigate on the market. Its exceptional stealth qualities have been adapted from DCNS' unique experience in designing silent nuclear and ballistic missile submarines.

DCNS has delivered FREMM Multi-Mission Frigates on schedule to the French Navy, the Royal Moroccan Navy and the Egyptian Navy.

OPV 75
DCNS personnel will also be on hand to provide visitors with information on the OPV 75, an offshore patrol vessel developed by KERSHIP, a joint-venture between DCNS and French shipyard Piriou. The OPV 75 has been designed to perform law enforcement operations at sea with fast intervention and significant flexibility, high-endurance and good sea-keeping behaviour. Benefiting from navies operational feedback, the OPV 75 comes into play not only for EEZ patrol and surveillance, but also on high seas while conducting boarding operations.

DCNS will also present during PACIFIC the wide range of support services it offers during the entire lifecycle of both surface ships and submarines: Through Life Support (TLS) in France and abroad, training and simulation, diagnoses and advice to navies, transfer of technology and support for the construction of naval infrastructures, shipyards and naval bases.

This global offer is designed to contribute to the sovereignty of the country through appropriate know-how and technology transfer programs.

• On Wednesday, October 7 at 10 am, DCNS will host a Submarine Industry Supply Chain Seminar in the Showcase Theatrette.
• On Thursday, October 8 at 9 am, Xavier Mesnet, DCNS Submarine Marketing Director, will participate in a conference dedicated to "Multimission submarines & innovations" in room B.