a
PACIFIC 2015 Show News - MBDA
MBDA Showcasing its Missile Solutions for Maritime Superiority at PACIFIC 2015
During PACIFIC 2015, MBDA is demonstrating its strengths in the maritime domain with several missies from its portfolio: The CAMM/Sea Ceptor, the MARTE familly, the Sea Venom/ANL and the Exocet MM40 Block III.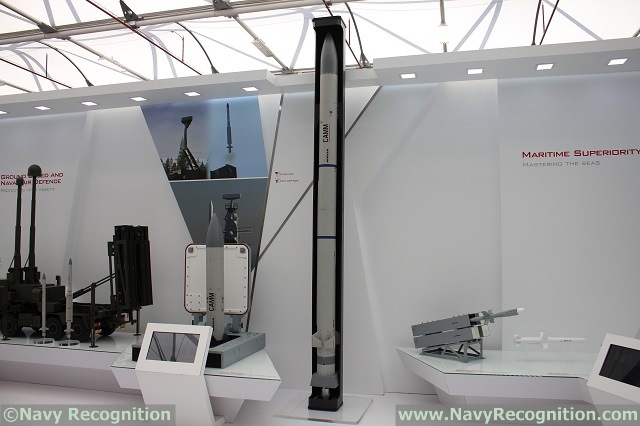 CAMM and martet models on MBDA stand at PACIFIC 2015
Sea Ceptor
In 2014, the New Zealand MoD signed a contract on behalf of the Royal New Zealand Navy for MBDA's Sea Ceptor to provide the future air defence element of its Frigate Systems Upgrade project for its two ANZAC class frigates, the HMNZ Te Kaha and Te Mana. At the end of the same year, Brazil also selected this soft vertically launched system to equip its four future new Tamandaré class corvettes. Deploying the new generation CAMM (Common Anti-air Modular Missile), Sea Ceptor is already creating a significant amount of export interest. In addition to its ability to counter the full range of current and future air threats, as well as certain surface targets, the fact that CAMM does not rely on dedicated tracker/illuminator radars but can be cued by the launch vessel's own standard surveillance radar, its ability, thanks to its folding fins, to maximise launch canister density and its soft launch technology allowing a greater degree of flexibility in terms of installation position all combine to make this an extremely relevant consideration for navies planning new builds or refits.

CAMM launch canisters are compatible with SYLVER and Mk41 family launch silos and In September 2013, the missile was successfully test launched from the latter. Lockheed Martin has also developed a 3-Cell Extensible Launching System (ExLS) specifically designed for smaller naval platforms that are unable to accommodate the larger 8-Cell MK41 Vertical Launch System. Sea Ceptor is equally compatible with this smaller launch system. At PACIFIC 2015, a full scale CAMM will be on display along with its associated MK41 launcher.

Marte family
MBDA's stand features two recent additions to the Marte family of anti-ship missiles. Marte MK2/N is the surface-to-surface version of the original Marte MK2/S helicopter-launched medium range anti-ship missile. For maximum flexibility of operation and ship installation, it is available in several launcher options with easy upgrades from a smaller to a larger configuration. With its operational range in excess of 30 km, the system will provide navies with a complementary capability to longer-range MBDA anti-ship missiles such as Exocet. It is optimised for operations within the Exclusive Economic Zone (EEZ) and to deal with low intensity naval warfare against a wide variety of low and high value targets

To provide an extended operational range, Marte ER (Extended Range) has now been added to the Marte MK2 family. This new version of the missile meets the operational requirements of engaging targets well beyond the radar horizon. The Marte ER missile uses many of the technologies and has a great commonality with the standard Marte MK2 missile with the main difference lying in the turbo-engine propulsion system that provides a much greater effective range. Also suitable for fixed wing platforms such as MPAs and combat jets, the ER version is able to engage the same target set as the Marte MK2 but at ranges well in excess of 100 km, allowing the launch aircraft to stay at a safe stand-off distance for added platform and crew survivability.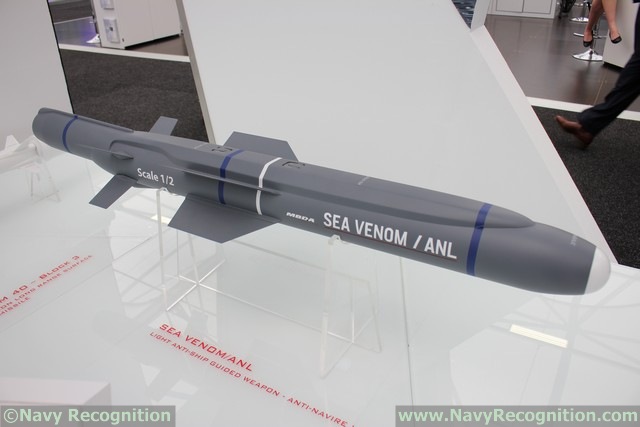 Sea Venom / ANL model on MBDA stand at PACIFIC 2015
Sea Venom / ANL
MBDA is developing a new generation helicopter-launched anti-ship missile to replace two existing products in its portfolio – Sea Skua and AS15TT. In the first instance Sea Venom / ANL is destined to equip the British Royal Navy's new AW159 Lynx Wildcat helicopters and to provide a new capability for helicopters such as the Panther and NH90 (with no logistical issues regarding changing over to the new missile). With Sea Skua currently also deployed on other navies' Lynx, sea King and AS21 helicopters, this new, extremely high precision weapon system is aimed at a wide, global customer base.

Designed to deal with a target spectrum ranging from FIACs to corvettes and typical littoral land targets, the 110kg Sea Venom / ANL provides the launch platform with a high level of safety thanks to its 25km stand-off range. It is also designed with all the considerations of operations in cluttered , complex environments in mind. In this respect, a high-speed two-way data link allows the operator to "see" the same image as that seen by the missile's IIR seeker as it heads towards the target, allowing changes to be made to the aim point as required. In this way, Sea Venom / ANL offers both autonomous fire-and-forget and operator in the loop engagement options.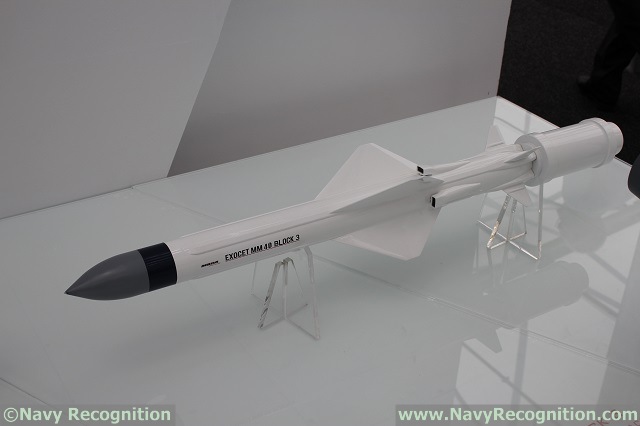 Exocet MM40 Blk III model on MBDA stand at PACIFIC 2015
Exocet
Since 2009, MBDA has been delivering the latest Exocet variant, the Exocet MM40 Block 3 to its global naval customer base. Qualified for operational service at the end of 2010 by the French DGA , this weapon continues to epitomize ship lethality. The 200 km class Exocet MM40 Block 3 features 3D waypoints based on a hybrid INS/GPS package, unique terminal manoeuvres to defeat countermeasures and an advanced J-band active radar seeker with adaptive search patterns allowing the autonomous acquisition of moving targets in complex scenarios even at long range. Unlike previous Exocets, this latest version can also strike fixed, littoral land targets via GPS coordinates.