a
PACIFIC 2015 Show News - SEA KraitArray
PACIFIC 2015: UK Company SEA Introduces its KraitArray Passive Acoustic Thin Line Array
SEA introduced their next-generation, small diameter, passive acoustic thin line array product at Pacific 2015. Named after the banded sea snake of this name, KraitArray is a user configurable thin line array providing directional sensing capabilities.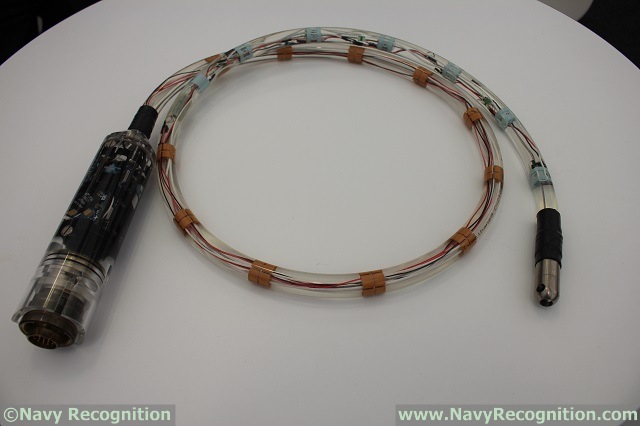 KraitArray model at PACIFIC 2015
Suitable for low speed towed or static applications SEA have made use of their knowledge and experience of larger diameter arrays to develop this highly adaptable product that provides impressive performance with reduced power consumption, weight, drag and cost when compared with traditional line and towed arrays. These benefits mean that KraitArray™ can be adapted and used for many platforms and applications including:

• Manned & unmanned vessels (surface and underwater)
• Harbour surveillance and protection
• Suspended/vertical array
• Marine mammal monitoring
• Torpedo defence systems
• ASW
• Environmental monitoring and vessel noise characterisation
• Asset monitoring and protection
• Condition monitoring

KraitArray can be towed by Liquid Robotics' Wave Glider.

SEA also provide and support many other elements of Naval Combat Systems, including communication systems, weapon and decoy launch systems and training solutions.