a
PACIFIC 2015 Show News - ThyssenKrupp Marine Systems
TKMS announces 'Endeavour' - the name for Australian Future Submarine Project
ThyssenKrupp Marine Systems (TKMS), the world's leading builder of conventional submarines, has announced the name 'Endeavour' for its Australian SEA1000 Future Submarine Project. The announcement was made today to coincide with the company's presence at Pacific 2015, a major naval industry event being held in Sydney from 6 to 8 October. TKMS is committed to naval shipbuilding in Australia and the broader APAC region.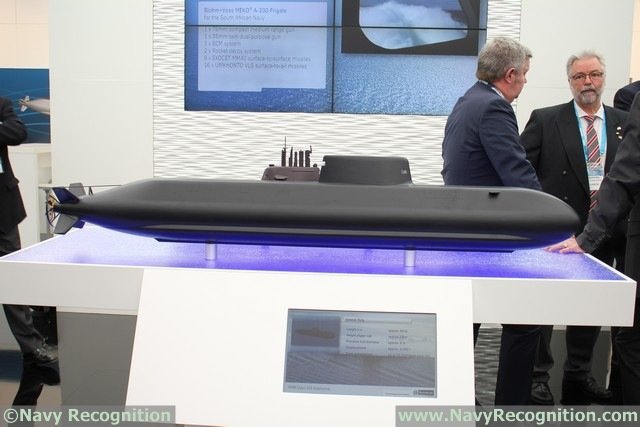 TKMS' "Endeavour" submarine project showcased at Pacific 2015
Dr John White, Chairman of ThyssenKrupp Marine Systems Australia, said:
"
We selected the name 'Endeavour' for its obvious connections to Australia's history, particularly the fact that the country was discovered by Captain James Cook who first landed the Endeavour at Botany Bay in 1770. 245 years later, at Pacific 2015, we are showcasing our leading ship-building and submarine capability that reflects our strong commitment to Australia for over 150 years.
"
"
We are committed to deliver a regionally-superior submarine for Australia under Project Endeavour through the Federal Government's Competitive Evaluation Process. We will offer an advanced submarine design that is tailored to Australia's specific submarine requirements and designed for reliable cost effective sustainment.
"
Dr White noted TKMS's firm commitment to future participation in naval shipbuilding in Australia generally:
"If an all-Australian build is the preferred option, we are well prepared for it. The construction and assembly work can be carried out at several locations around Australia, using proven modular construction. The materials and components supply will engage thousands of Australian companies, and many more thousands of skilled people, from all states."
"
Successful naval programs, like the ANZAC Frigates, Minehunters and LHDs, show Australia has both the skills and corporate capability to build these complex projects internationally competitively in this country. Major naval industry projects are a strategic National Infrastructure endeavour that create long-term skilled activity and innovation across the country, to cost-effectively and reliably support the military in times of peace, emergency and conflict.
"
We engaged with over 400 suppliers at our recent industry days held around the country and are confident that Australian companies have the capability and high-tech skills to contribute much to Australia's ship-building future.
" Dr. White concluded.
TKMS Type 2016 SSK Technical datasheet