a
PACIFIC 2015 Show News - DSME
DSME Celebrates MoU with Local Partners for Australia's SEA 1654 Programme
DSME (Daewoo Shipbuilding and Marine Engineering), celebrates its partnership with BAE Systems Australia Limited, BMT Defence Services Ltd, L-3 Communications and SAAB with a Memorandum of Understanding (MoU) signing ceremony at the Pacific 2015 International Maritime Exposition in Sydney. The signing took place on Tuesday 6th October at the DSME stand.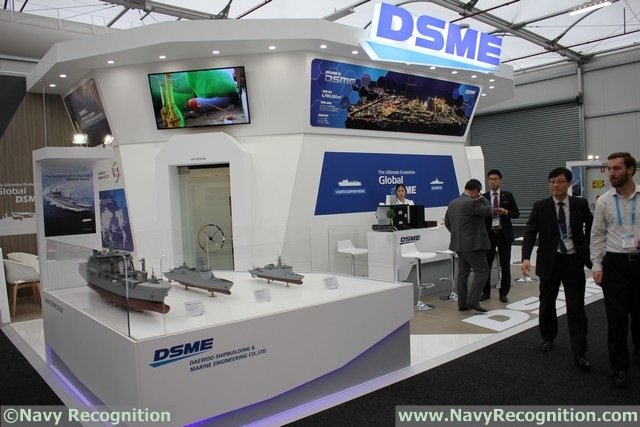 Daewoo Shipbuilding and Marine Engineering stand at Pacific 2015
The MoU reinforces DSME's commitment to local participation in its tender response to the SEA 1654 Maritime Operational Support Capability Program. The proposal submitted includes a bespoke version of BMT's Aegir® family of vessel designs, as well as a feasible, proven and cost effective strategy for the sustainment of the vessels.
According to the latest Australian Defence Capability Plan, SEA 1654 Phase 3 seeks to replace HMAS Success with a "
modern double-hulled replenishment ship that is fully IMO (International Maritime Organisation) compliant
".
The timetable, as it presently stands, calls for market solicitation to begin early in the project, followed by First Pass Approval in the 2013/14 to 2014/15 timeframe. A Year of Decision is set to occur between 2016 and 2018 with an Initial Operational Capability (when the complete materiel system is accepted into Navy service) to follow sometime between 2021 and 2023.
According to the DCP, "Final Operational Capability will occur when the full scope of the project, including the mission, support and training systems and facilities, if required, have been delivered and accepted into operational service". At this point in time, no Life of Type for the new vessel has been identified.
SEA 1654 Phase 3 is valued at between $500 million and $1 billion and, aside from the desire to construct the vessel in a local shipyard, there are major opportunities for Australian Industry Participation.
In the meantime, in order to meet IMO standards for the carriage of Petrol, Oil & Lubricants (POL), HMAS Success has recently undergone a lengthy period of dockyard work to fit a double hull. This will enable the vessel to meet international standards through to her eventual retirement in a little over a decade from now.