a
PACIFIC 2015 Show News - SEA5000 ASW Frigate Program
PACIFIC 2015: Pictures of the Contenders for the Australian Navy SEA5000 ASW Frigate Program
At PACIFIC 2015, the international maritime exposition held recently in Sydney, most shipyards or shipbuilding groups attending the event unveiled the design of their proposal for the Royal Australian Navy (RAN) SEA5000 program. SEA5000 calls for the replacement of the RAN ANZAC class frigates. The Future Frigate is expected to have anti-submarine warfare (ASW) capabilities and the CEAFAR2 radar currently in development by CEA.

CEA would not comment on CEAFAR2 at the show by Navy Recognition understands it will be a tri-band (S, X, L) radar with plannar arrays on an integrated mast. It will be developped (as part of SEA1448 Ph4B) to be agnostic to the ship design chosen for SEA5000. At PACIFIC 2015, the new generation active phased array radar could be seen fitted on almost all the SEA5000 contenders (on scale models or in CGI).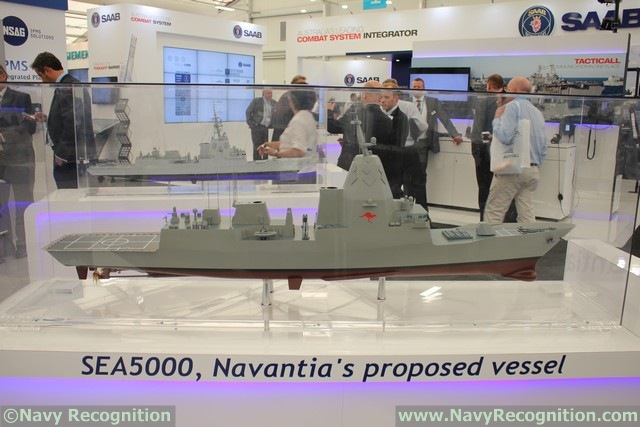 Navantia's SEA5000 proposal is based on the Hobart class Air Warfare Destroyer design
Navantia of Spain was the only one who showcased an actual scale model of its SEA5000 proposal. The vessel relies heavily on the Hobart class AWD design already selected by the RAN. A Navantia official explained there is "up to 70% commonality between the two platforms from a production stand point". The vessel would be fitted with 48x MK41 VLS cells, a SAAB combat management system and 2 helicopter hangars.

Navantia SEA5000 proposal basic specifications:
Original design: RAN Hobart class ASW
Length overall: 147.2 m
Max beam: 18.6 m
End of life displacement: 7400 t
Accommodation: 237
DCNS SEA5000 proposal is based on the successful FREMM design
DCNS representative explained to
Navy Recognition
that the vessel shares the same hull (same engines, same displacement) based on the proven FREMM design. DCNS used its research and development work already conducted on the FREMM ER (unveiled at Euronaval 2012) to fine tune the design of the mast area for this SEA5000 proposal. As can be seen on the CGIs, the FREMM for Australia is fitted with a 127mm main gun and a Rheinmetall Millenium CIWS gun on top of the helicopter hangar. DCNS stresses that this is "a first approach to SEA5000 with known or anticipated requirements" and that it will adapt the design and systems fit as customer requirements emmerge. The FREMM was designed from the start by DCNS as a potent ASW platform with very low accoustic signature even at speed.
DCNS SEA5000 proposal basic specifications:
Original design:
ASW FREMM (Aquitaine class)
Length: 142 m
Max beam: 20 m
Displacement: 6000 t
Accommodation: 145 to 180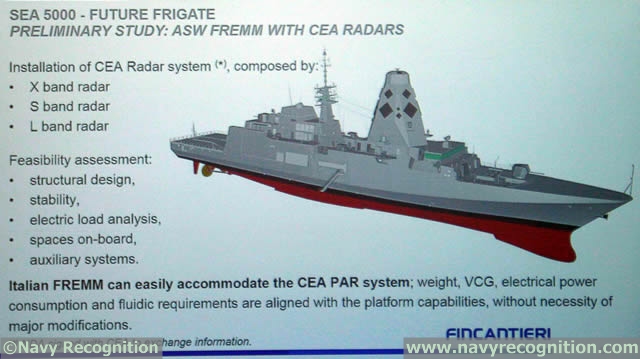 Fincantieri SEA5000 proposal is based on the Italian Navy FREMM ASW design
During an industry meeting at PACIFIC 2015, Fincantieri unveiled the design of its proposal for the SEA5000 Future Frigate program. Based on the Italian Navy FREMM ASW (Virginio Fasan class), Fincantieri says it recently conducted feasibility studies to proof the possibility to use its FREMM platform to cope with different Navy requirements (including Canada and Australia). The Italian FREMM "can easily accommodate the CEAFAR2 [ed. note Fincantieri presentation mentionned the CEA PAR system]; weigh, CVG, electrical power consumption and fluidic requirements are aligned with the platform capabilities, without the necessity of major modifications". Finally, Fincantieri says it can easily install the SAAB CMS on board.

Fincantieri SEA5000 proposal basic specifications:
Original design: ASW FREMM (Virginio Fasan class)
Length: 144 m
Max beam: 19.4 m
Displacement: 6,700 t
Accommodation: 167 (up to 200 for RAN)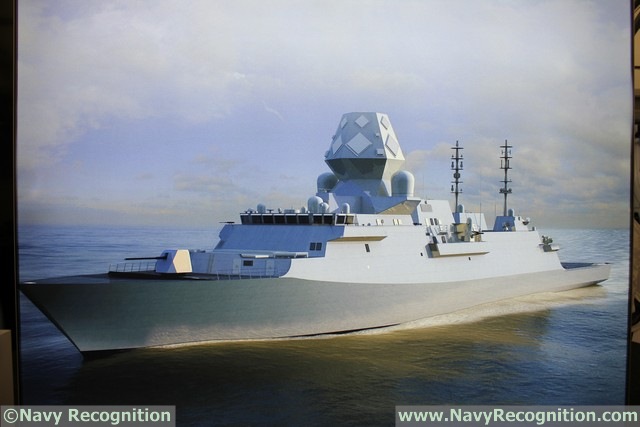 BAE Systems SEA5000 proposal is based on the future Royal Navy Type 26 design
The Type 26 is the future Anti-Submarine Warfare Frigate that will replace the Royal Navy's 13 Type 23 frigates and other ships. BAE Systems says the Type 26 / Global Combat Ship will be a highly capable and versatile multi-mission warship designed to support anti-submarine warfare, air defence and general purpose operations anywhere on the world's oceans. Navy Recognition could not meet a BAE representative who could talk about the SEA5000 GCS but we understand that it would be fitted with Mk41 cells exclusively (no CAMM which are present on the UK design) as well as a BAE Systems Mk 45 5 inch main gun.
BAE Systems SEA5000 proposal basic specifications:
Original design:
Global Combat Ship (Royal Navy Type 26)
Length: 148.5 m
Max beam: 20 m
Displacement: 6,000 t
Accommodation: 118 crew + 72 embarked forces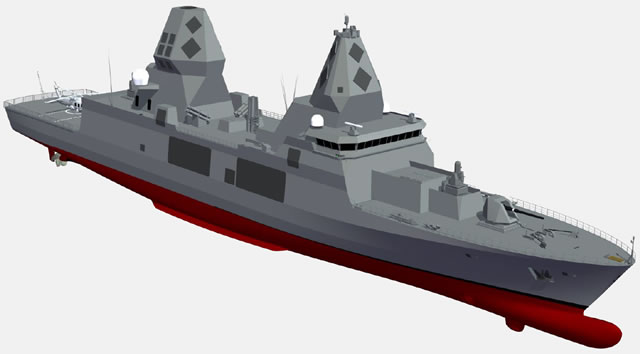 TKMS SEA5000 proposal is based on the future German Navy F-125 design. Image: TKMS
TKMS representatives explained to Navy Recognition at the show that their SEA5000 proposal shares the same hull and machinery as the F-125 Frigate which matches the basic requirements. With its CODLOG propulsion system, the vessel can reach up to 20 knots on electric propulsion (and keep a very low accoustic level). F-125 can accomodate up to 64x VLS cells. The proposal for the RAN has 32x cells forward and 16x more between the two masts. Based on CGI, the SEA5000 configuration includes an Oto Melara 127mm main gun, two Phalanx CIWS (forward and aft) and two hangars. At 7,200 tons the F-125 is large ship, which is TKMS says is necessary for the South Pacific Ocean.

TKMS SEA5000 proposal basic specifications:
Original design: F-125 (Baden-Württemberg class)
Length: 149.5 m
Max beam: 18.8 m
Displacement: 7,200 t
Accommodation: 110 (up to 190)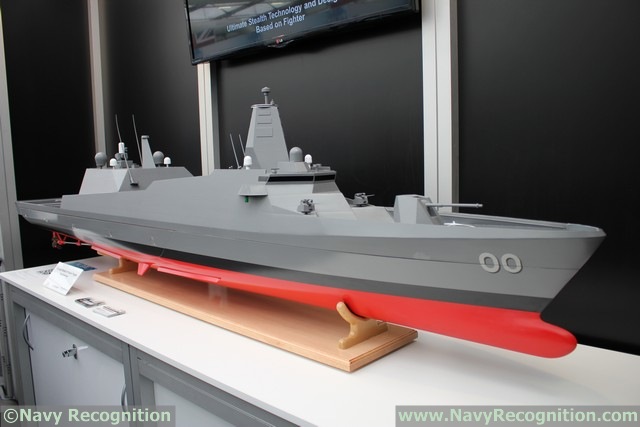 Mitsubishi Heavy Industries SEA5000 proposal is based on the 30DEX project
Japan Mod and MHI representatives told
Navy Recognition
at the show that the 30DEX (sometimes called 30DX or FFX) is a new concept that was shown in the mid-term defense buildup plan of Japan. The 30DX incorporates lessons learned on stealth and radar technology when MHI developped the ATD-X Shinshin stealth fighter experimental aircraft. Partners in the 30DX program include NEC, Fujitsu and Mitsubishi Electronics especially for the integrated mast and radars. The model on display at PACIFIC 2015 is an actual remote controlled model use to test the ballance of the hull in a test facility of the JMSDF. It features a Mk 45 main gun, 2x Marlin - WS by Oto Melera (forward) and a SeaRAM on top of the helicopter hangar. The hull is fitted with two shafts and two water jets to answer the high speed requirement of the JMSDF: 30DEX is required to reach 40 knots. For SEA5000 MHI is ready to integrate CEA's CEAFAR2 radar on 30DEX.
MHI SEA5000 proposal basic specifications:
Original design:
30DEX (MHI projet for JMSDF)
Length: 120 m
Max beam: 18 m
Displacement: About 3,000 t
Accommodation: About 100