a
UDT 2015 Online Show Daily - Sphyrene SDV
Alseamar Showcasing the Sphyrene Swimmer Delivery Vehicle at UDT 2015
At the UDT 2015 Undersea Defence Technology exhibition and conference currently taking place in the maritime city of Rotterdam, Netherlands, French company Alseamar (Alcen group) is showcasing its Sphyrene swimmer delivery vehicle (SDV) for special forces.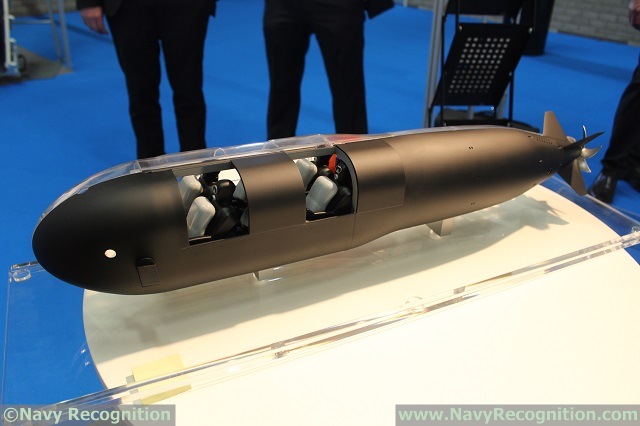 Alseamar's Sphyrene SDV model at UDT 2015
Rémi Lecomte, Alseamar Sales Manager – Special Forces, told Navy Recognition during UDT 2015 that the Sphyrene main qualities are its ease of use and ruggedness: What combat divers expect from their equipment. Alseamar's SDV is innovative because of its navigation precision and impressive range of 100 nautical miles. The company also focused on the man-machine interface (MMI) and designed it to be particularly use friendly.

With an optimized shape, this new generation SDV measures about 8.30 meters in length and 1.45 meters in eight. It may transport from 2 to 6 divers at speeds up to 9 knots and depths up to 25 meters.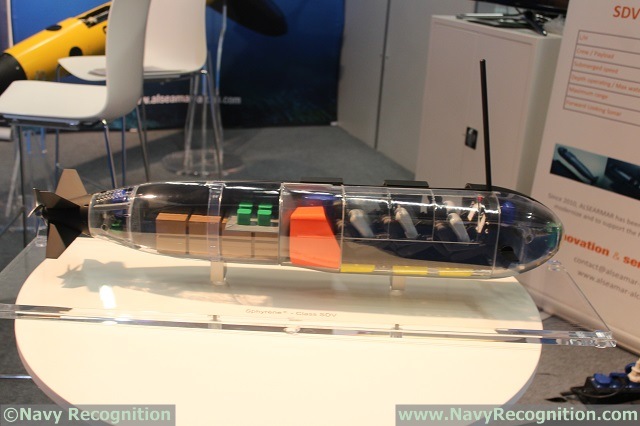 Alseamar's Sphyrene SDV model can transport up to 6 divers and is fitted with the latest navigation technologies.
Navy Recognition learned during UDT 2015 that the Sphyrene may be fitted with an optional module for intelligence gathering missions.

Alseamar, who has been modernizing and supporting the French Navy's existing fleet of SDVs since 2010, is proposing the Sphyrene on the export market.

At UDT 2015, Alcen group is also showcasing its SeaExplorer multi-mission glider which we will cover in another news item.