a
Sea Air Space 2016 Online Show Daily - SAS 2016 Press Release
Defense Secretary Ashton Carter Will Speak at Sea-Air-Space 2016 Luncheon

Secretary of Defense Ashton B. Carter will be the keynote speaker at the "Sea-Air-Space Luncheon" May 17, the second day of the annual Sea-Air-Space: The Navy League's Global Maritime Exposition. This will be Carter's first time speaking at Sea-Air-Space and the first time in six years that the incumbent secretary of Defense has spoken at the conference.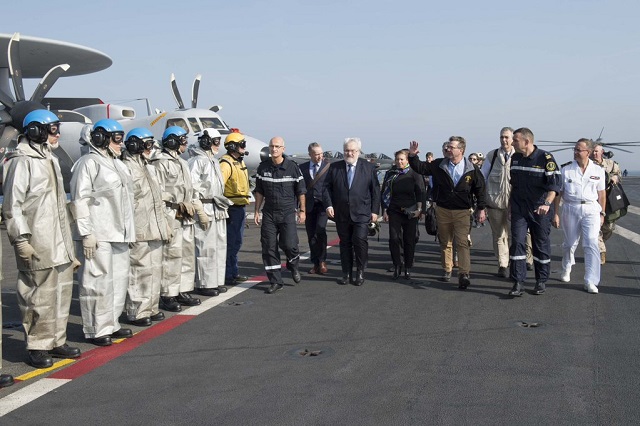 U.S. Defense Secretary Ash Carter visits the flagship of the French Navy, the Charles De Gaulle, for the first time. French Navy Picture
The Sea-Air-Space Luncheon, slated from 12:15 p.m. to 1:45 p.m., often serves as the platform for some of the sea services' most influential voices to provide important and topical information. In 2015, Adm. Paul F. Zukunft, the 25th commandant of the of U.S. Coast Guard, provided an overview of the way forward for the service and discussed central missions, priorities and key issues for the agency to more than 1,000 attendees.
"Ashton Carter has a distinguished record of service to national security and is dedicated to the men and women who make our nation a safer place," said Kevin Traver, the Navy League's staff vice president of Corporate Affairs. "We are honored to have him address the sea services community at this year's Sea-Air-Space."
Tickets for the Sea-Air-Space Luncheon and other special events are available during the badge registration process.
See our complete list of special events
, open to all registered attendees.
Sea-Air-Space attendee registration is free to U.S. military, government and other qualified individuals. Attendee registration, event tickets and trade fair details are available at
seaairspace.org
. Conference Schedule updates are posted frequently,
check back here
.