a
Sea Air Space 2016 Online Show Daily - ATK Orbital Press Release
Orbital ATK to Showcase Advanced Defense Capabilities During Navy League'ssea–Air–Space 2016
Orbital ATK, a global leader in aerospace and defense technologies,will highlight the proven performance and cost-effectiveness of its current and future systems during the Navy League's 2016 Sea-Air-Space Exposition, May 16-18 at the Gaylord National Resort and Conference Center, National Harbor, Maryland. Thecompany's exhibit is located at stand 1731.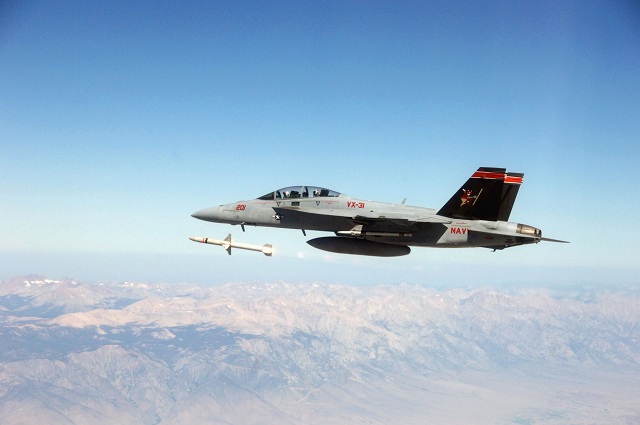 An AARGM is test fired from an F/A-18D at China Lake, Calif. in June 2012.
(U.S. Navy photo)

Focused on all spectrums of defense technologies and operating environments, Sea-Air-Space is a natural fit for Orbital ATK to display the company's expertise encompassing defense integration for air and ground platforms. Highlights include the company's ability to upgrade and integrate offensive and defensive air capabilities with the Advanced Anti-Radiation Guided Missile (AARGM), ShotFinder Acoustic Threat Warning System and the AAR-47 Missile Warning System. Additionally, details are available on the company's innovative line of customized gunships that provide allied nations with intelligence, surveillance and reconnaissance platforms; and outfitted with a variety of weapon systems to include Orbital ATK's Bushmaster® Chain Guns® and medium-caliber cannons.

Orbital ATK also will display its precision guidance kits for naval and ground artillery, precision application for ground mortars; the Hatchet, miniature precision glide weapon,and its Bushmaster® line of Chain Guns® and automatic cannons that support 7.62mm, 25mm, 30mm and 40mm applications for air, land and sea weapons station platform integration. Details on the company's expertise in providing integrated logistics and training packages for medium-caliber cannons is also available from on-site Orbital ATK representatives.